Museum Collections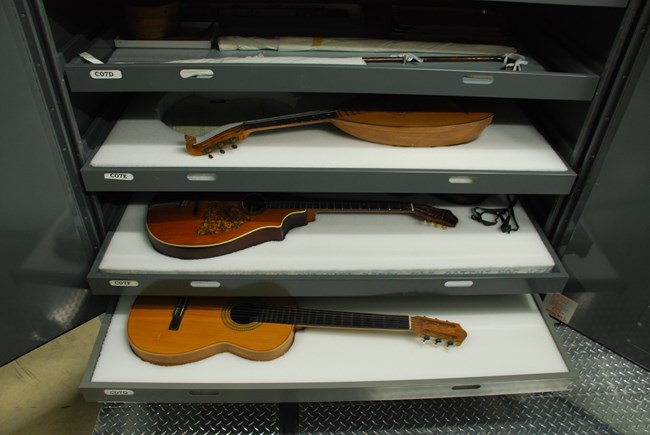 The museum collection at Carl Sandburg Home NHS contains over 250,000 museum objects and over 800 linear feet of archival material. The documents, books, artwork, personal artifacts, and other objects are an assemblage collected during a lifetime spanning 89 years and are a unique reflection of twentieth-century history and life ways.
The collection is a window into the private life of Carl Sandburg, a popular icon of the mid-twentieth century famous for his poetry, biography of Abraham Lincoln, children's stories, and American folk song compilations. The museum collection also documents Lilian "Paula" Sandburg's contributions to the American dairy goat industry, her Connemara Farms business, and her Chikaming herd. Over 30,000 original furnishings decorate the historic house, giving visitors a chance to travel back in time to the late 1950s and experience the lifestyle of a uniquely American family.
The museum collection includes archival and object collections relating to Carl Sandburg in addition to archival, specimen, and object collections relating to park management, preservation of historic structures and cultural landscapes, and inventorying and monitoring programs. The Park's museum collection is available to researchers by appointment with the curator. Please
contact
the park at to schedule an appointment.
Browse the collection on the
NPS Web Museum Catalog
. (Please note that this link brings you to the web museum listing page of parks that have online collections. On this page, search for Carl Sandburg Home NHS to get to the museum page for this park.)


Last updated: October 26, 2021