Sandburg's Lincoln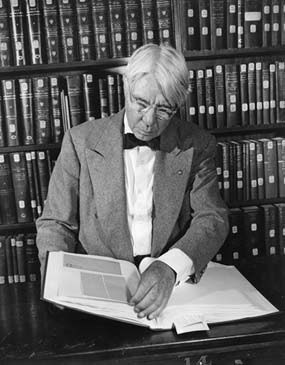 As a young boy growing up in Galesburg, Illinois, Carl Sandburg often listened to stories of old-timers who had known Abraham Lincoln. He would regularly take a shortcut through nearby Knox College in Galesburg where, on October 7, 1858, Abraham Lincoln and Stephen A. Douglas had met for the fifth joint debate in the famous Senatorial contest. Sandburg served in the 6th Illinois, Volunteers in Puerto Rico during the Spanish-American War where he was assigned to General Nelson A. Miles who was a brigadier general in some of the bloodiest battles of the Army of the Potomac in 1864.
These experiences and the Lincoln lore that was prevalent during Sandburg's formative years sparked his curiosity and interest in the person of Abraham Lincoln. His first writing on Lincoln appeared in the Milwaukee Daily News in 1909 while working as a reporter on the Daily News staff. He wrote a short piece describing the use of Lincoln's face on pennies. In it, he articulated Lincoln's belief in the common man and stated it was appropriate that the face of "Honest Abe" appear on the common coin.
"The common, homely face of "Honest Abe" will look good on the penny, the coin of the common folk from whom he came and to whom he belongs." – Carl Sandburg, Milwaukee Daily News 1909
Sandburg often felt that he was fortunate to grow up in such a rich Lincoln area and that perhaps he would write a biography of Abraham Lincoln for young people that would give American children an opportunity to learn of Lincoln as he did. However, this book for young people had changed. Starting in 1923 and published in 1925, Abraham Lincoln: The Prairie Years had grown into a two-volume 344,000 word study which covered Lincoln's life up to his move from Springfield to Washington to become the President of the United States.
Sandburg had planned to stop writing about Lincoln after the publication of The Prairie Years. The rest of Lincoln's four years before his assassination would be covered in the Preface to The Prairie Years. However, Sandburg was so caught up in the stories of Lincoln that he found it difficult to stop. Sandburg became engaged in Lincoln's life and for the next thirteen years he researched and wrote about the President's last four years. His research was extensive. He met with historians, collectors, librarians, and sons and daughters of those who played a part in the Civil War times. He spent time in the White House researching Lincoln. He read newspapers from the North and the South from that period. He read more than 1,000 books in his first year of research alone. Finally, in 1939 Carl Sandburg published the four-volume Pulitzer-Prize winning biography Abraham Lincoln: The War Years. In these writings, the stories of Lincoln and the people and their times are told. In a Time magazine article upon the completion of The War Years it was written, in part, "This four-volume biography… is a work whose meaning will not soon be exhausted, whose greatness will not soon be estimated. It can be said that no U.S. biography surpasses it in wealth of documentation and fidelity to fact, that none, not even Douglas Southall Freeman's monumental Robert E. Lee, can compare with it in strength, scope and beauty…"
Sandburg, however, did not end his relationship with Lincoln at the publishing of The War Years. He continued to work with Lincoln even after he moved to North Carolina in 1945,and in 1954 Sandburg published an abridged (or "distilled" as Sandburg referred to it) one-volume edition of Abraham Lincoln: The Prairie Years and The War Years. Due to the amount of information in the six volumes, Sandburg said the series was "harder to un-write, than to write."
The complete publication led Sandburg to become an authority on Lincoln. He built a reputation traveling across the nation lecturing to colleges and universities on the Lincoln that he knew so well. In 1959, Sandburg was asked to speak to a joint session of Congress on the 150th anniversary of the birth of Abraham Lincoln, making him one of the very few private citizens to ever hold such an honor.
Click here to view Sandburg's address to the Joint Session of Congress.
Last updated: June 28, 2021