Safety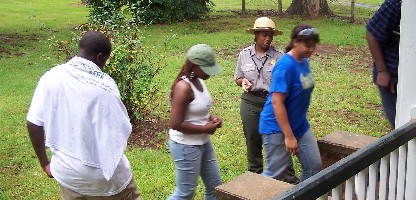 The enchanting grounds of Oakland and Magnolia Plantations present challenges to visitors, such as uneven or muddy trails, fire ants, and an exciting variety of reptiles. It is always a good idea to watch your step.
We are located in the Sunny South which means Summertime is hot and humid. Visitors might want to bring hats and umbrellas for shade and drink plenty of water.
Winter is relatively mild with measurable snowfall every 5-10 years.
Average rainfall is approximately 55-60 inches per year. The area is also subject to severe thunderstorms, hail, damaging winds, and tornadoes.