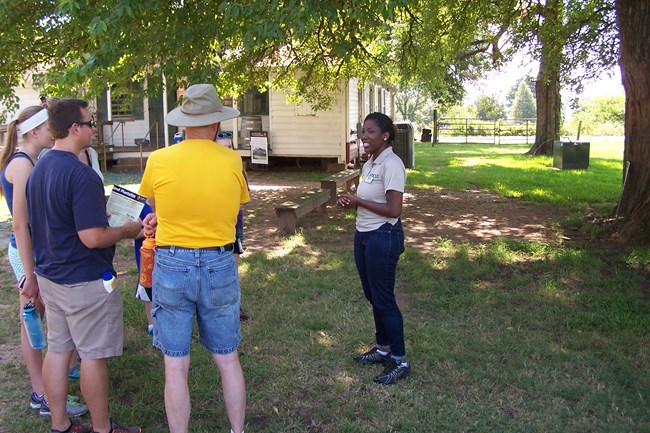 National Council for Preservation Education
The National Council for Preservation Education, in cooperation with the National Park Service (NPS) and other partnering agencies, is pleased to offer internships during the summer of 2018. NCPE has partnered with the NPS since 1992 to connect higher education students and recent graduates in historic preservation, cultural resource management, and related fields to projects at hundreds of sites and divisions within the NPS system and other agencies annually. Completing an application is the first step in securing an internship at Cane River Creole National Historical Park.

The length of an internship can vary from 10 to 30 weeks if full-time (40 hours/week) or longer if on a part-time schedule. The exact starting dates will be determined on a case-by-case basis with the supervisor.

To be eligible, applicants must be currently enrolled in an academic program or recently graduated (degree received May 2017 or later). Interns are not eligible to work more than 1200 hours total in this program; previous interns in the program must stay within this overall limit.

Apply today!
Historically Black Colleges & Universities Initiative
Elevate your education and work experience through this fun and meaningful internship. Help your National Parks by taking initiative, working on key projects, and achieving success as you start your rewarding career. Help us preserve our nation's history!

Do You Qualify?
HBCUI recruits currently enrolled students from Historically Black Colleges and Universities across the country.

Past Project Sites
Cane River Creole National Historical Park, LA
Martin Luther King, Jr. National Historic Site, GA
Tuskegee Airmen National Historic Site, AL
Selma to Montgomery Historic Trail, AL
Statue of Liberty National Monument, NY
New Orleans Jazz National Historical Park, LA
Boston African American National Historic Site, MA
Harriet Tubman Underground Railroad National Historical Park, MD

What Are the Benefits?
- Learn new skills
- Gain marketable career experience
- Network with colleagues across the country
- Experience history through exciting work opportunities
- Work in some of the most amazing historic locations in the country
- Use this program to gain entry-level exposure to careers in the Federal
Government

Apply today!