Low Water FAQs
What is considered low water?
In Cataract Canyon, flows below 5,000 cfs are considered low water.
Where can I find current river flow data?
https://waterdata.usgs.gov/ut/nwis/rt
http://www.cbrfc.noaa.gov/
How does low water affect Cataract Canyon?
During low water, the rapids in Cataract Canyon become increasingly rocky and technical (requiring precise moves to avoid obstacles). In some cases, rocks and other features may be unavoidable. The risk of pinning or wrapping boats is high. All groups should have the appropriate gear, skill and experience to both navigate and self-rescue in these conditions.
What boats are appropriate for low water Cataract trips?
The ability to successfully run rapids at low water depends entirely on the individual(s) rowing or paddling. As with any river, there are no guarantees. Smaller, non-motorized boats (16 feet in length or less) generally have less trouble reacting quickly and navigating the rapids as they become tighter.
Low Water Photos
During the summer of 2002, flows on the Colorado and Green Rivers dropped to record lows. These photos were taken in Cataract Canyon during the week of July 1, 2002. At the time, the flow was estimated to be 2,700 cfs. Additional photos are available on the Canyonlands Flickr Site.

Rapid 15

(Capsize)
View Larger

Rapid 20

(Ben Hurt)
View Larger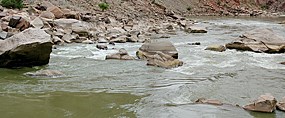 Rapid 22
(Big Drop Two)
View Larger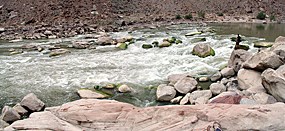 Raid 23
(Big Drop Three from river left)
View Larger
Last updated: December 6, 2014