How to Make an Overnight Backcountry Permit Reservation on Recreation.gov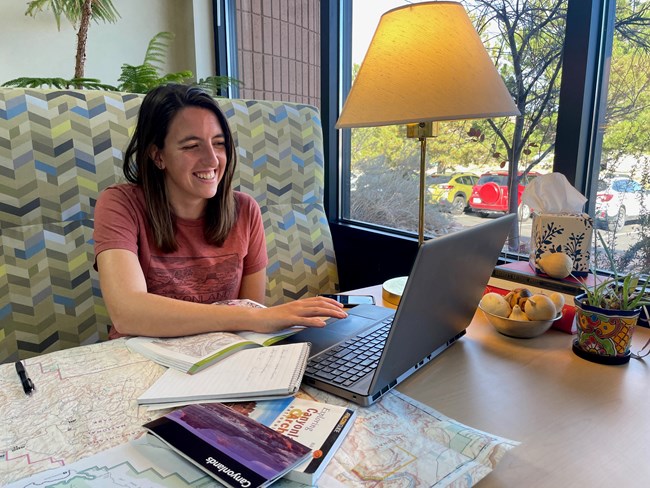 Follow These Steps
Greetings future Canyonlands National Park Backcountry Permit holder! We hope you will find the following information on securing a Canyonlands National Park Backcountry Permit Reservation helpful.

Before you get started, make sure you have the right tools. Have a device with reliable internet connection to access Recreation.gov. Reserving campsites works best on a laptop or desktop computer, or on a mobile phone with the Recreation.gov mobile app.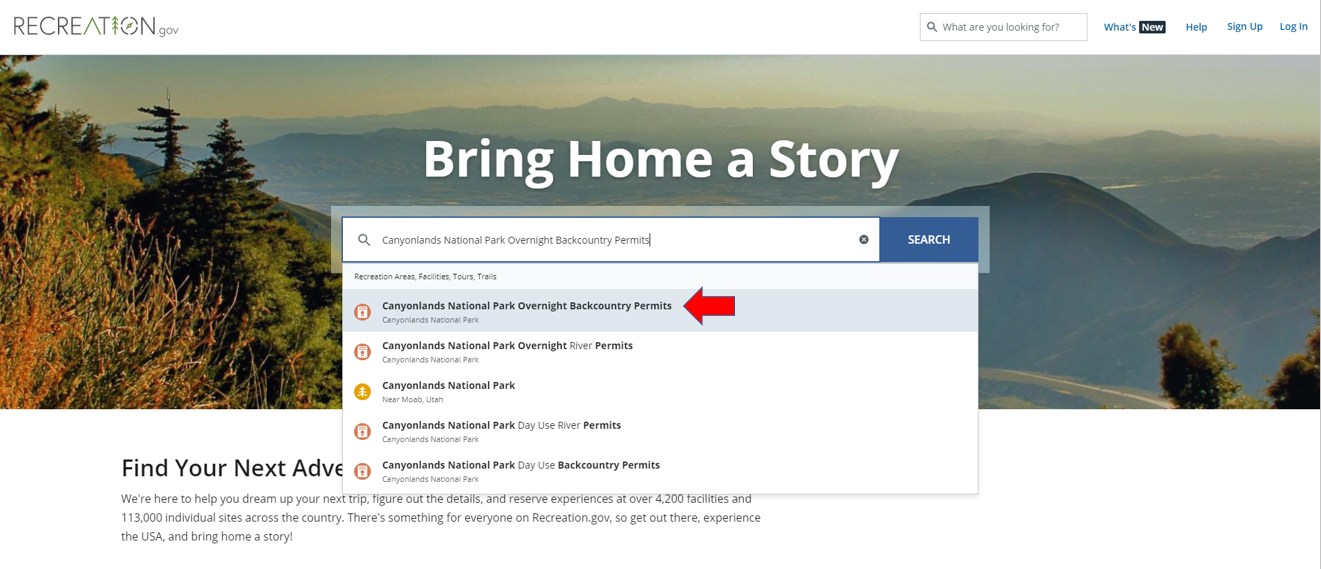 Step 1:
Go to Recreation.gov. On this main page, you will see the large words "Bring Home a Story." In the search bar, type in "Canyonlands National Park Overnight Backcountry Permits." Click on the option that says "Canyonlands National Park Overnight Backcountry Permits." This should be the first one that appears.

Note: If you find yourself on another Canyonlands National Park reservation page, or can't seem to find the page at all, back up to the main recreation.gov homepage and search specifically for "Canyonlands National Park Overnight Backcountry Permits." This will take you to the page you need to be on.

If you are looking for a backcountry road day use permit or a river permit, search for these in this same location.
Step 2:
Read through this first page. There is a lot of important information here that may help you plan your trip, make your reservations and answer any questions that you may have! Once you have read through the information here, click on "Check Availability" to continue.

Step 3:
At the top of this reservation page, select your tentative start date and the number of people in your group. The number of people can be updated later in the permit reservation process if needed.

Step 4:
Once you have selected the date and group size, select the district of the park and activity you are interested in (aka, Starting Area). Visit our Publications page for basic park maps.

For this tutorial, we are reserving a 4WD/Mountain Biking permit for the White Rim Road in the Island in the Sky District. We are going to click on "Island in the Sky White Rim 4WD/Mountain Biking."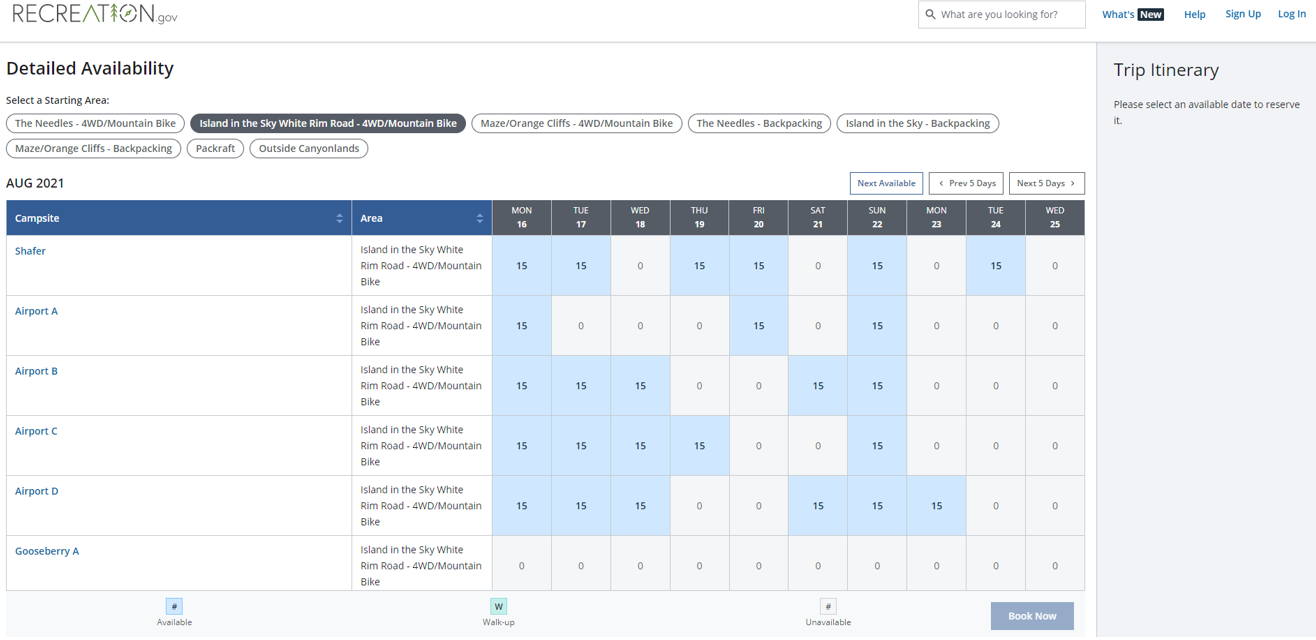 Step 5:
Once you have selected your starting area, a calendar for 10 days out (or 5 days on cellular devices) will appear below with the reservable campsites listed in the far left column.

If a square shows up as blue and with a number in it, the campsite is available for that date (the number is the group size limit). In this example, Airport A campsite is available on Monday, August 16.

If the square shows up as grey with a "0", that means that campsite has already been reserved by someone else. In this example, Airport A campsite is not available on Tuesday, August 17.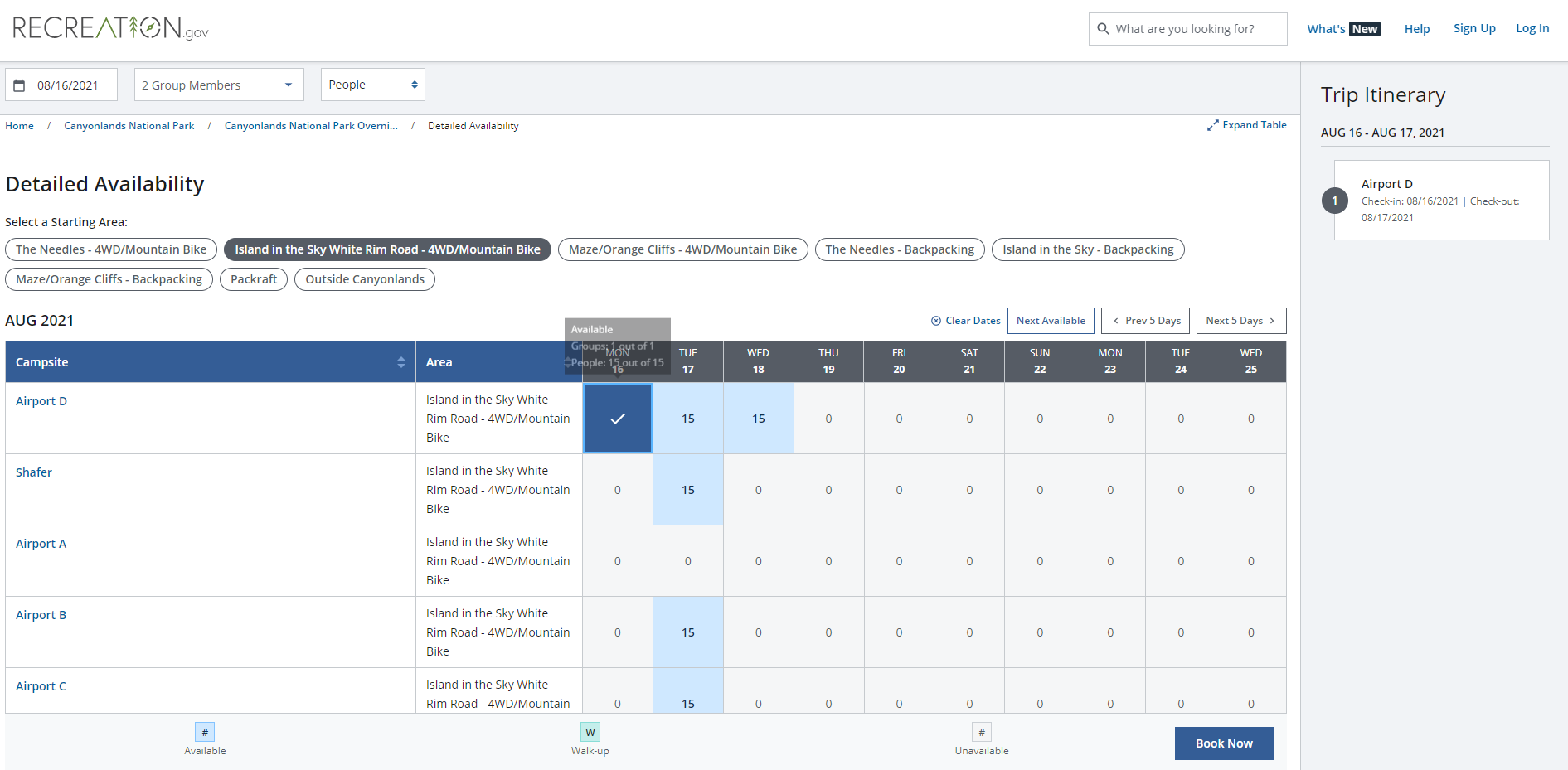 Step 6:
Now it is time to start building your itinerary! A permit can have up to 14 consecutive nights with one night allowed outside of the park for travel between districts or remote areas of the park. The important thing to remember is that you must select your first night, then select the nights you would like after it.

In this example, we will build a 3-night White Rim itinerary. Click on the first night you want (Airport D on August 16). A checkmark will appear, and the campsite/date you have selected will appear on the righthand side under "Trip Itinerary."

You can then select the second night campsite you want, and then the third night, building your 3-night reservation (Murphy B on August 17 and Potato Bottom B of August 18). Be sure to scroll down to see all campsites. You will not be able to select any campsites on dates earlier than the first one you have selected.

If you want to change a selected campsite, click on the checkmark to de-select it. You will have to de-select all campsites prior to the one you want to change. For example, you can only change your first night campsite by first de-selecting all of the checkmarks starting from the last night selected. In the example above, to change Airport D to Airport B, de-select Potato Bottom B and Murphy B. De-select Airport D, select Airport B. Then re-select Murphy B and Potato B to finish out your itinerary.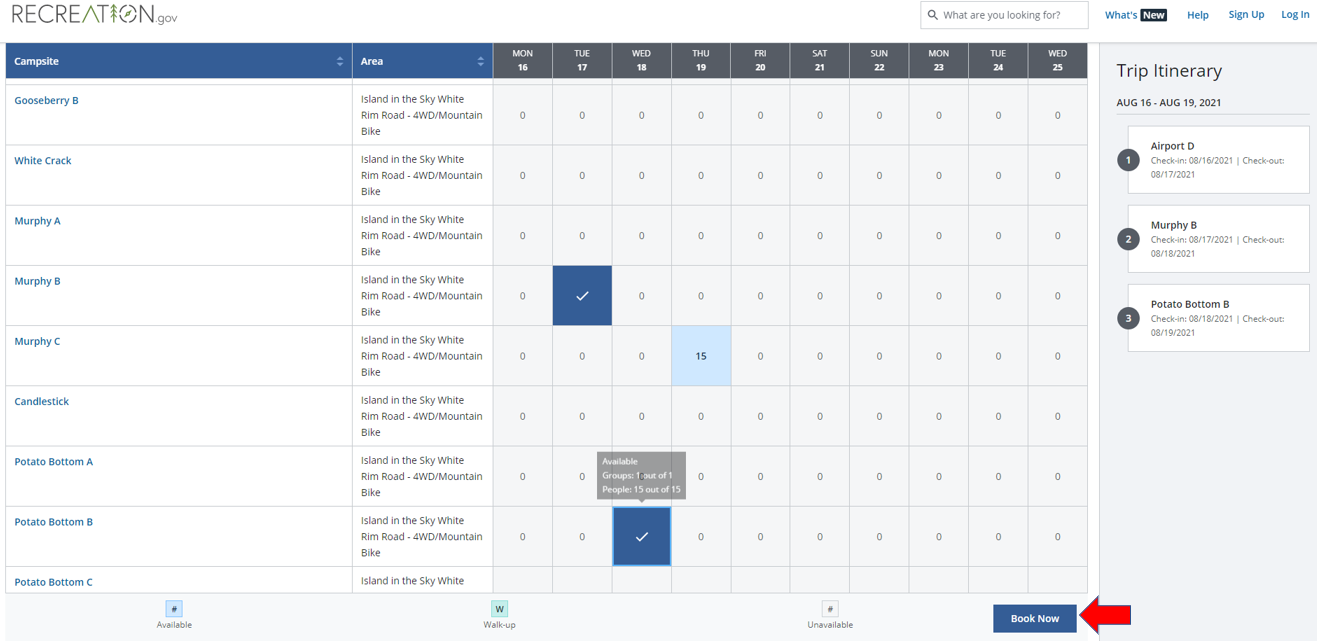 Step 7:
Once you have selected your trip itinerary, you can click "Book Now" to continue.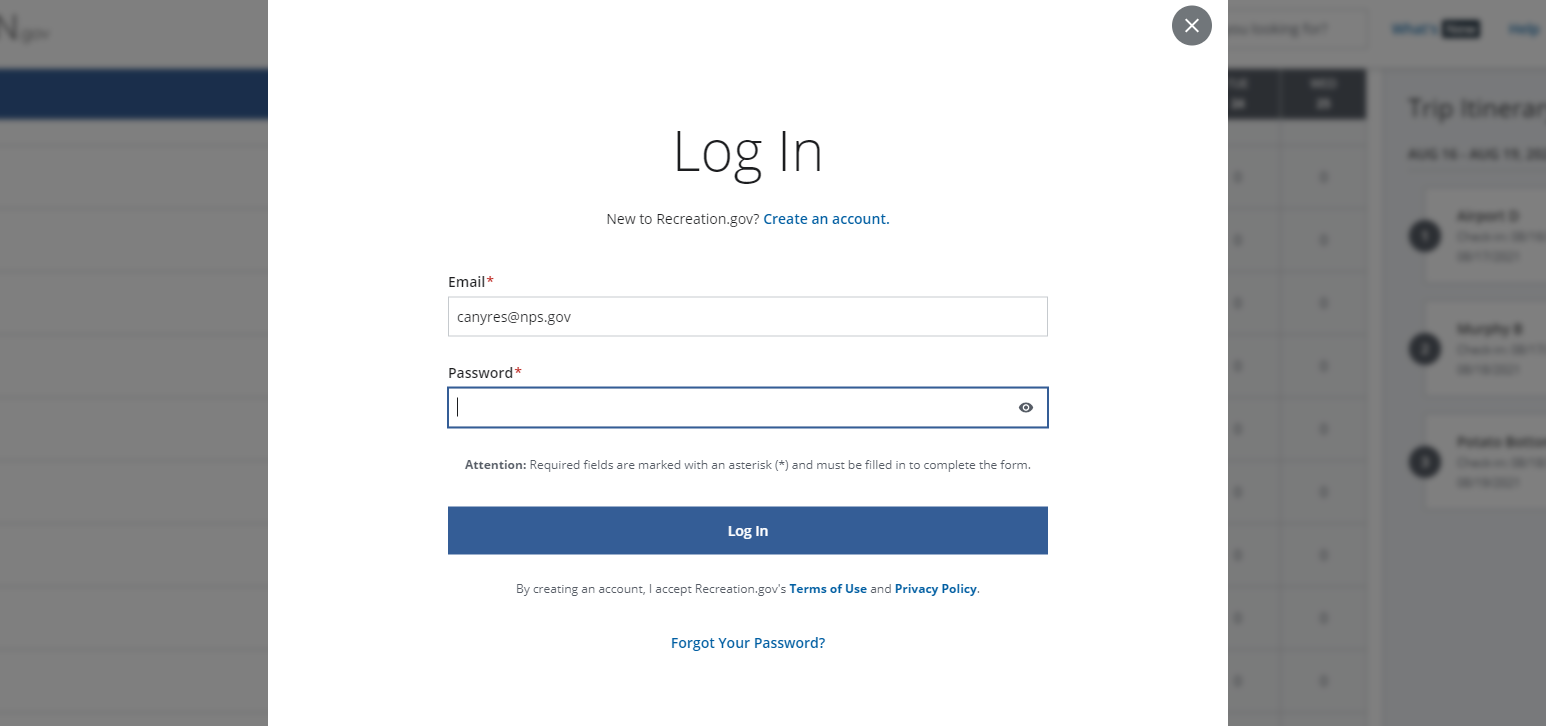 Step 8:
If not already logged in, you will be prompted to log into your recreation.gov account. If you do not have one, click on "Create an Account."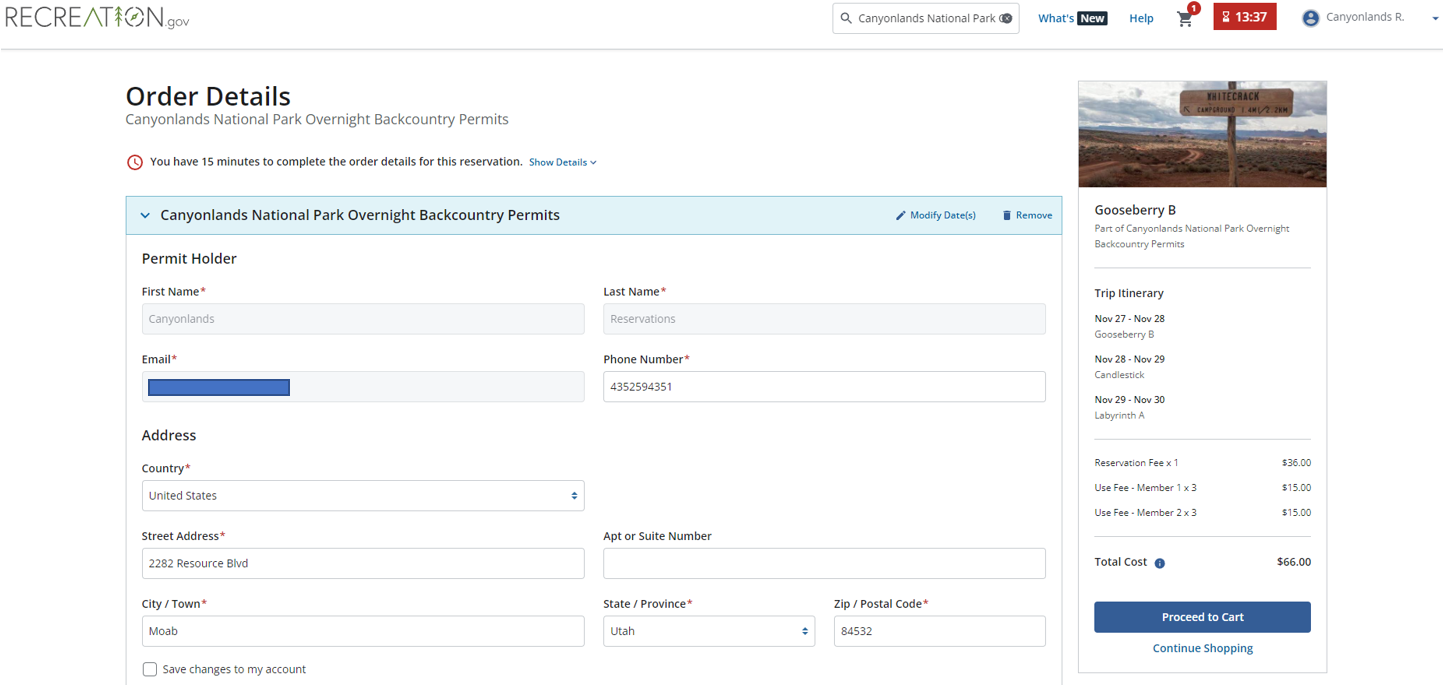 Step 9:
Once you click "Book Now" a timer will start in the upper right-hand corner of the screen. You have 15 minutes to enter your information. Make sure all information is correct.
We strongly recommend that you enter an alternate trip leader. If you are unable to make your trip, your reservation cannot be transferred to someone else unless their information is entered here.
You will also be required to select the entry and exit point for your trip. Be sure to look at a map and plan your entry and exit points beforehand!
Be sure to enter important information such as your vehicle and emergency contact information. This information helps rangers in emergency situations.
You can modify your reservation, with the exception of the alternate trip leader and trip start date, up until your permit is issued by logging into your recreation.gov account, or by emailing the Backcountry Permit Office: canyres@nps.gov.
You must read ALL the "Need to Know" information. Click the box that acknowledges that you've read this section.
Then select "Proceed to Cart."

Step 10:
From here, you will proceed to payment. Remember to breath deep: you have 15 minutes once you add nights to your cart. No one else can reserve what you have selected during this time. This timer also re-sets when changes are made. What you have added to your cart will not disappear unless you remove them, or the timer runs out.

You will see there are options to modify and edit what is in your cart. Remember, a reservation can have multiple consecutive nights on it. You will only be able to reserve one campsite per night.

Step 11:
Enter your payment information. Once payment is made you are on your way to exploring Canyonlands National Park's backcountry!

You will receive an email with instructions on how to obtain your permit. You are required to have a printed, signed copy of your permit with you.

If you need help, please reach out to the Backcountry Permit Office at canyres@nps.gov. Email is the best option, but if you need to speak with someone call the Backcountry Permit Office at 435-259-4351, 8 am-4 pm MT, Weekdays (Monday-Friday) except federal holidays.

We look forward to seeing you in the backcountry!
Last updated: September 13, 2022