Canyonlands Turns 50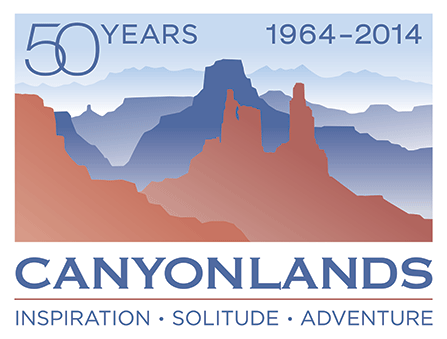 This is a special year at Canyonlands.

In 1964, Congress set aside a hardscrabble piece of desert in southeast Utah "in order to preserve an area...possessing superlative scenic, scientific, and archaeological features for the inspiration, benefit, and use of the public."

In 2014, we are celebrating 50 years of welcoming visitors from all over the world. Special events will take place throughout the year. Come celebrate with us!

"Walking with Thoreau"
Over the next few weeks, a National Park Service volunteer and philosopher will be leading a series of special hikes at the Island in the Sky. In commemoration of the 50th anniversaries of the Wilderness Act, the Civil Rights Act, and the establishment of Canyonlands National Park, we will reflect on these acts through the writings of one of America's greatest nature writers, Henry David Thoreau, and discuss their relevance today, 50 years after they were written.
If you choose to participate in one of these hikes, we will record your reactions to your time in Canyonlands in an ebook that will be archived as part of the history of this anniversary. Participating in this project as citizen historians is one way to pay tribute to these landmark legislations, so that they might continue to thrive and flourish for the benefit of future generations.
Since our discussion will be centered around the writings of Henry David Thoreau and the Wilderness and Civil Rights Acts, we ask that you take a moment to read the texts before joining us on one of these hikes. After you register, we will send you an electronic pamphlet containing the readings we will be discussing along with additional information.
These hikes will take place every Saturday morning through November 7 and last approximately half the day. Please email or call us for more information or to reserve your spot. We hope you'll join us!

Email: walkingwiththoreau@gmail.com
Phone: 435-259-4712 extension 16
If you're interested in the texts, they are also available online:
Henry David Thoreau's "Walking" http://www.gutenberg.org/ebooks/1022
Henry David Thoreau's "On Civil Disobedience" http://www.gutenberg.org/ebooks/71
Wilderness Act of 1964 https://wilderness.nps.gov/document/wildernessAct.pdf
Civil Rights Act of 1964 https://research.archives.gov/description/299891
Last updated: February 24, 2015