Miners & Ranchers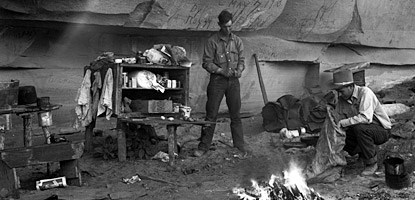 Ranchers
From the 1880s to 1975, local ranchers used much of Canyonlands for winter pasture. Cowboys searched the canyons for good feed and water. They constructed trails to move their stock across the rugged terrain. Places and trails throughout the park bear the names of early cowboys. The Taylor, Holeman, and Shafer families grazed cattle and sheep in what is now Island in the Sky. To guard their herds, cowboys lived in primitive camps for weeks at a time. The Cave Spring Trail in The Needles district features one such camp.
David M. Cooper, V. P. Martin, D.L. Goudelock, H. G. Green and Joe Titus ranched the Indian Creek area. Their holdings under the Indian Creek Cattle Company were bought by the Scorup and Sommerville families in 1918. Jeep roads built by Scorup in 1947/28 helped increase access to The Needles area. Cowboys last operated within The Needles district in 1965/66, but the Indian Creek Cattle Company operates today at the Dugout Ranch just outside the park boundary, under ownership of the Nature Conservancy.
The Biddlecome, Ekker, Tidwell and Chaffin families wintered animals in the Maze. The Ekker Ranch grazed cows on lands adjacent to the Maze until 2000. In addition to cattle and sheep, the rugged country around The Maze harbored outlaws. Robbers Roost, a mesa top west of The Maze, provided refuge for Robert Leroy Parker (a.k.a. Butch Cassidy), Tom and Bill McCarty, Matt Warner and others.
Miners
The growth of America's nuclear arms program in the 1950s created a high demand for uranium. Geologists thought that Utah's canyon country contained a significant amount of uranium, but the rugged terrain made access difficult. To encourage prospectors, the Atomic Energy Commission offered monetary incentives and built almost 1,000 miles of road in southeast Utah. In Canyonlands, these roads include the popular White Rim Road at Island in the Sky. Miners searched for treasure... and some might say they found it.
Though the region produced substantial amounts of uranium, miners discovered very little in what is now Canyonlands. However, miners greatly increased access to the area by adding to and improving the trails and jeep routes built by ranchers. For the first time, much of Canyonlands could be seen from a car. Tourism slowly increased as more people learned about the area's geologic wonders. By opening canyon county to travel, the ranchers and miners blazed the trail for the creation of a national park.
Last updated: May 29, 2020