Miners & Ranchers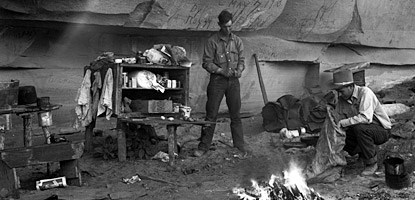 For nearly a century from the 1880s to the 1970s, local ranchers used much of Canyonlands for winter pasture. Cowboys explored the canyons searching for good graze and water. They constructed trails and roads to move their stock across rugged terrain, such as the Shafer and Murphy trails at Island in the Sky. You can see examples of primitive cowboy camps, like the camp at Cave Spring, throughout the park.

Ranching was important business throughout the 20th century in all three districts of the park, and continued for 10 years after the park was created. Today, the Dugout Ranch outside The Needles district continues the tradition, sustainably farming and ranching under ownership of the Nature Conservancy.

Roads and trails were also built for other uses. America's nuclear arms race in the 1950s created a high demand for uranium. Geologists thought that Utah's canyon country contained a significant amount of the metal, but rugged terrain made access difficult. The Atomic Energy Commission encouraged prospectors with monetary incentives and built almost 1,000 miles of road in southeast Utah. The now popular White Rim Road at Island in the Sky started this way.

For the first time, much of Canyonlands could be seen from a car. This, plus the development of the interstate highway system, opened the door for increased tourism to the area, and eventually the creation of a national park.
Last updated: November 20, 2020