Living Ruins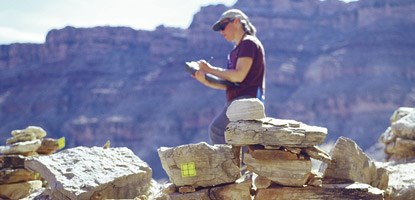 If you paddle along the Green or Colorado Rivers, don't be surprised to find prehistoric ruins full of life again! Canyonlands is conducting an architectural and rock art survey of the river corridors. Funded entirely through entrance fee receipts, this project is the first to systematically document prehistoric granaries, habitation structures, rock art panels as well as cowboy camps along the rivers. This project is also the first for Canyonlands' emerging Vanishing Treasures Ruins Preservation Program, which seeks to combine archeological and architectural documentation with baseline preservation assessments.
In the field, archeologists create digital maps of sites, including any rock art panels and structures. They photograph site features, identify artifacts and write detailed descriptions of the area. With this level of documentation, archeologists can address questions like "When did people occupy this site?", "What were they doing here?" and "How does this site relate to others in the surrounding area?" This work will also help select which sites have the potential for more detailed study, such as wood for tree ring dating, intact midden (or garbage) deposits with food remains and other household debris, or stone quarried for making prehistoric tools.
Preservation assessments include describing building materials and techniques, determining the stability of structures, assessing future threats to the sites, and recommending appropriate treatments to stabilize them. These assessments also indicate whether a specialist such as a structural engineer, rock art conservator or architect would be needed to assist with site preservation.
The data from last year's field work revealed many more structures and rock art panels than were previously known. These include granaries used to store corn and other materials, structures thought to be seasonal homes, and circular structures of stacked rock. Through mapping the sites over the length of the rivers, an understanding of how the river corridors were used by people over time is beginning to emerge. Although the data has yet to be formally analyzed, most prehistoric sites appear to date from the Formative Period (900 to 1250 A.D.), and combine elements of both ancestral Puebloan and Fremont prehistoric traditions. Historic sites reflect ranching, mining and river exploration in the late 1800s through the designation of the park in 1964.
Fortunately, most sites are in relatively good condition. However, many show signs of visitor impacts. Entering structures, moving stones, collecting or moving artifacts all reduce the ability of archeologists to reconstruct the past. Imagine trying to solve a mystery if important evidence was removed from a crime scene! Eventually, everyone loses when the site collapses, or a rock art panel completely disappears. Canyonlands was established partly to protect the area's spectacular archeological resources. You can help preserve these sites by not entering structures, moving or collecting artifacts, or touching rock art panels. By visiting these sites responsibly, you will ensure that future generations can enjoy them too.
Last updated: February 24, 2015