Kent Frost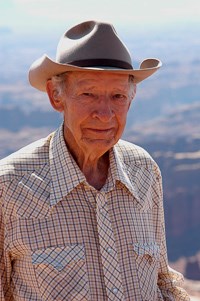 An excerpt from From Controversy to Compromise to Cooperation:The Administrative History of Canyonlands National Park:
"Kent Frost's role in mainstream society's discovery of Canyonlands and the development of a constituency in favor of its preservation cannot be underestimated. From 1956, when he began commercial jeep tours, until Canyonlands National Park was created in September 1964, Frost took 138 trips and 593 people into the Canyonlands basin.
Paralleling Bates Wilson's role as the official National Park Service representative, Frost was every person's backcountry guide, a regular guy from a local farming family who found joy amidst the region's sedimentary sculptures. Combining his passion with a desire to show people beautiful places while augmenting the family income, Kent and his wife Fern helped reveal Canyonlands to the world.
The preferred commercial guide for official surveys, the media and tourists alike, Frost helped transfer the slickrock aesthetic and surrealistic sculptures of Utah's canyon country to everyone's living room. Long before coffee table books and tourist literature made these phenomenal landscapes part of the global psyche, people around the world gazed at photos of canyon country taken during a Kent Frost-led tour."
Kent Frost died on May 16, 2013. Kent's loving account of his experiences in canyon country, My Canyonlands, can be purchased in our bookstore.
An interview with Kent & Fern Frost
In 1994, Gary Cox and Bill Booker spoke at length with Kent Frost and his wife Fern about their experiences in canyon country. [35 pages, 104k PDF file]
Last updated: January 29, 2019