Trip Introduction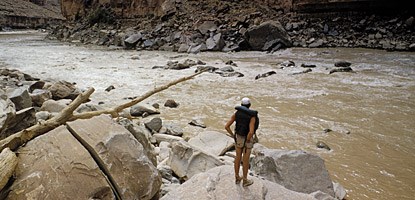 One of the considerations in planning the 1956 Cataract Canyon Expedition was its expense. Would it be cheaper, easier, and safer to hire a commercial operator, or should we buy, outfit, and run our own boats, or should we buy the equipment and hire boatmen or otherwise arrive at some economic compromise? I wrote letters to Georgie White, Harry Aleson, A. K. Reynolds, Don Harris, Pat Reilly, and Bus Hatch as potential outfitters, to Bob Swift and Moulty Fulmer as possible boatmen, and to Elwyn Blake of the 1921 USGS Expedition and to Doc Marston for general information. In the end, Dick Lewis and Frank McKeown decided that their budgets were far too small for the hiring of outsiders, and the decision was made for the entire enterprise to be a USGS operation. Since I was the only USGS employee who had navigated the canyon, and in fact the only one in Grand Junction who had ever rowed a raft, I was loaned to the project from my drilling and mapping duties at Slick Rock (on the Dolores River) as Chief Boatman of the river expedition.
On June 1st, I commenced a log of activities related to boating, and it evolved into a diary while we were afloat. After the journey Lucille Hooker, the chief secretary for the US Geological Survey in Grand Junction, typed the notes and made 22 mimeographed copies. These were distributed to the members of the trip and to those who had assisted in organizing the voyage. With the collapse of the uranium boom a year and a half later and the dispersal of those involved, the log was soon forgotten.
Some time during the next 42 years a copy of the notes reached the Dan O'Laurie Canyon Country Museum in Moab, Utah, where they were discovered by John Weisheit. John considered the diary important, not because of its penetrating insight or scintillating style, but rather because in aging it had acquired historical value owing to its information regarding the lower part of Cataract Canyon and its rapids which are inundated by the Powell Reservoir. He requested my permission to publish it. I was horrified at what I had written. Much of the text was written sentence by sentence as events occurred, and was disjointed, but this was no excuse for the number of "gets" and "gots" scribed throughout. They alone deprived the document of any sophistication whatsoever. So with many misgivings, and valuing my friendship with John more than entertaining dreams of a writing career, I said, "Yes," and the diary was published in the Museum's Journal: Canyon Legacy, Spring 1998, V. 32, p. 7-15..
Last updated: February 24, 2015