Horses of Shackleford Banks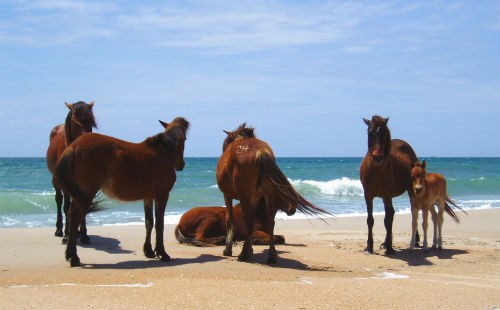 Shackleford Banks, the southern-most barrier island in Cape Lookout National Seashore, is home to more than 100 wild horses. Venture out by boat or passenger ferry to enjoy the rare privilege of watching horses that live without the help of man. Appreciate the horses' tenacity and watch their social behaviors. Respectfully stay far enough away to avoid disturbing the horses or endangering yourself, your children, or your pets.

General information on the horses, horse behaviors, and park management can be found in the Shackleford Horses brochure (pdf, 1.8 MB) . You can also download our answers to Frequently Asked Questions about Our Local Wild Horses (pdf, 404 Kb). Updates on the horses are posted each year, these reports can be found on the Horse News and Updates page.
Articles on the herd, including tips for horse watching, have been published in current and past editions of the park newspaper. These articles can also be downloaded from the links below:
Information on the management of the herd can be found in the General Management Plan on the Current Documents page.

View more pictures of the Shackleford herd in the Horses Photo Gallery.
Last updated: October 20, 2023