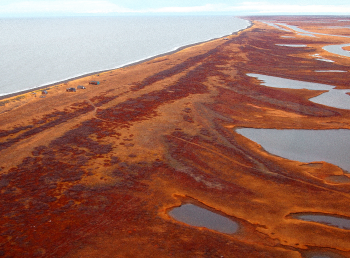 Cape Krusenstern National Monument is most famous for its archeological sites. They depict every known cultural period in arctic Alaska and provide information about both prehistoric and historic Native cultures.
Like the rest of northwest Alaska, however, Cape Krusenstern is also rich in natural resources.
If you look at a map, you will see the Krusenstern coast and a series of lagoons just inside it. The coast is created by the Chukchi Sea and Kotzebue Sound. The brackish lagoons open and close seasonally according to the movements of barrier spits and islands. The shore lands and waters provide excellent animal habitat: marine mammals, terrestrial mammals, birds and fish abound.
Like most of the mid to high arctic, the soils in the monument are underlain by a continuous swath of permafrost—soil frozen solid for up to hundreds of feet beneath the surface. The depth of the seasonally thawed soil—or "active layer"—varies from tens of feet beneath streams or water bodies to a foot or less in the uplands. As snowmelt and rain are blocked from percolating by shallow permafrost, these soils are typically wet and usually covered with cotton grass tussock tundra. Soils on the lower slopes are typically poorly drained, and covered with peat, or partly decomposed plant remains. Higher areas up to CAKR's highest point (Mt. Noak, 2010 feet) frequently have moderately shallow depths to bedrock and are not permanently frozen. These soils tend to be better drained.