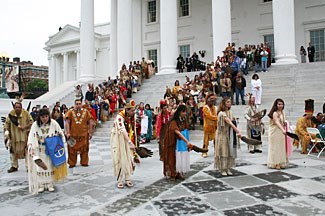 It is a common misconception that Indians no longer live in the Chesapeake Bay region. There are tens of thousands of people in Virginia, Maryland, Delaware, Pennsylvania, and the District of Columbia who identify as American Indian. Chesapeake Bay American Indians are still here today.
Native People of Virginia
In 1607 the English documented many Algonquian-speaking tribes in what is now Virginia. Today, 7 of the historic tribes of Virginia are descendants of these Algonquian speakers. Of the more than 20 historic tribes belonging to the Siouan-speaking peoples of the piedmont and mountain regions, today 1 tribe in Virginia, 2 in North Carolina, and 1 on the state line between them still live in either Virginia or North Carolina. In addition there are descendant communities of native peoples in all of the states around the bay.
Today, the cultures of Virginia's tribes and descendant communities are vibrant and thriving, a testimony to the fortitude of their ancestors and their peoples' continuing determination to retain and reclaim their heritage. As of this writing, no Virginia tribe is yet to be acknowledged by the federal government.
The Commonwealth of Virginia has recognized these 11 tribes:
Chickahominy Tribe
Eastern Chickahominy Tribe
Mattaponi Tribe
Monacan Indian Nation
Nansemond Tribe
Pamunkey Tribe
Rappahannock Tribe
Upper Mattaponi Tribe
Cheroenhaka (Nottoway)
Nottoway of Virginia
Patawomeck