Lincoln Park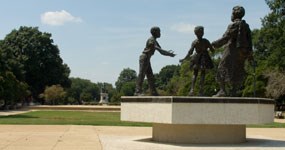 Lincoln Park is the largest Capitol Hill Park and features monuments to two of the nation's greatest leaders: President Abraham Lincoln and educator and Civil Rights leader Mary McLeod Bethune. It is located directly east of the United States Capitol Building at East Capitol and 11th Streets in the Northeastern quadrant of the City.
The open space that is now Lincoln Park was part of Pierre L'Enfant's original 1791 plan for the District of Columbia and was intended for public use. In 1867 when Congress officially named the park Lincoln Square, it was the first site to bear the name of the martyred President.
To further recognize President Lincoln, a memorial statue was placed in the park in 1876. The statue was unveiled on April 14, the 11th anniversary of President Lincoln's death, with over 25,000 people in attendance. Frederick Douglass delivered the keynote address before President Ulysses S. Grant, his cabinet, and members of Congress. He discussed both his approval and disapproval of the monument.
The statue features President Lincoln in his characteristic frock coat, holding the Emancipation Proclamation before a kneeling African American man. Modeled after Archer Alexander, the last person captured under the Fugitive Slave Act, the man's arms are extended to show his shackles have been broken. While for many people, including Frederick Douglass, the monument perpetuated many stereotypes about African Americans' ability and participation in antislavery activity, Lincoln Park became a major tourist attraction through the late 19th and 20th centuries. The statue originally faced west towards the U.S. Capitol until it was rotated east in 1974 in order to face the newly-erected Mary McLeod Bethune Memorial.
Across the park at the East end, there sits a memorial to educator and activist Mary McLeod Bethune. The statue features an elderly Mrs. Bethune handing a copy of her legacy to two young African American children. Mrs. Bethune is supporting herself by a cane that was given to her by President Franklin D. Roosevelt. The statue was unveiled on the anniversary of her 99th birthday, July 10, 1974, before a crowd of over 18,000 people. The funds for the Memorial were raised by the National Council of Negro Women, Inc. (NCNW), the organization Mrs. Bethune founded in 1935.
The first monument to honor an African American and a woman to be created and specifically placed in a public park in the District of Columbia, the Bethune Memorial recognizes one of the country's greatest leaders. The inscription on the pedestal of the Memorial "Let her works praise her", speaks of Mrs. Bethune's many accomplishments as an educator, public servant, presidential advisor, women's rights activist, and civil rights leader.
Last updated: April 15, 2021