Emancipation Statue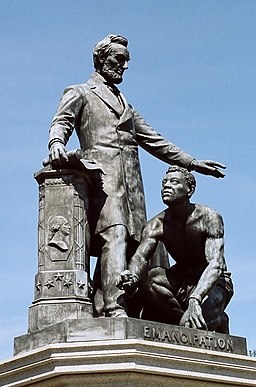 Charlotte Scott began the journey that led to this monument. After President Lincoln's murder, Scott gave $5 towards what she hoped would be a memorial. Recently emancipated from enslavement, this was her first money earned as a free Black woman.
From here, $20,000 was given by Black Americans, many of who shared Ms. Scott's status as recently freed persons.The St. Louis-based Western Sanitary Commission held the money. These white abolitionists searched for a design. There is no evidence anyone outside this group had a say in the design. Black folks paid for it; white folks chose it.
Harriet Hosmer proposed a multi-level memorial showing Lincoln alongside several Black Americans. This ambitious design was compelling, but too expensive. A simpler, more affordable design was needed. William Greenleaf Eliot was one of the monument committee. Years before he saw small sculpture done by Thomas Ball, a white American sculptor in Munich.
When Ball heard of Lincoln's death in 1865, he wrote, "I could not free my mind from the horror of it." At the same time Charlotte Scott donated her $5, Thomas Ball began sculpting a memorial. They were unaware of each other. Later, when Eliot saw the completed memorial of Lincoln and an enslaved man and asked Ball if they could use it. "Of course I accepted their offer, for you must remember that every cent of this money was contributed by the freed men and women," Ball reflected.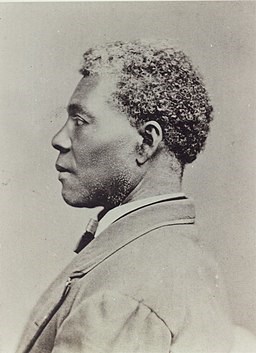 Some changes occurred. The enslaved individual's face was now modeled off Archer Alexander. Alexander is often called the last person taken under the Fugitive Slave Act. A hat came off, and a pile of books became a pedestal. In 1875, the statue traveled to Washington to be placed in Lincoln Park.
The statue, sometimes called "The Emancipation Group" or "Freedman's Memorial," was dedicated April 14, 1876. On the 11th anniversary of Lincoln's death, nearly every African American organization in the city joined in a large parade. As it snaked its way through the city, a crowd buzzed in anticipation. Before the crowd stood the statue covered in flags and bunting. A stage next to the monument eagerly awaited them. President Ulysses Grant arrived. The formerly enslaved Blanche Kelso Bruce was with him. Bruce was now a Mississippi Senator. As the parade got closer, they saw "twenty-seven mounted police, followed by three companies of black militia troops, headed by the Philharmonic Band of Georgetown. Numerous other cornet bands, marching drum corps, youth clubs in colorful uniforms, and fraternal orders from both Washington and Baltimore filled in the long line with pride and pomp. The Knights of St. Augustine carried a large banner with a painting of the martyred Lincoln." With them were Master of Ceremonies, John Mercer Langston, and featured orator Frederick Douglass.
The Marine Band struck up "Hail, Columbia" as nearly 25,000 spectators angled for a view. Readings and music occurred. The head of the Western Sanitary Commission gave the history of the monument. After this address, John Mercer Langston invited President Grant to reveal the monument. He grabbed the cord in his hands, and "as Grant stood still for a long moment, the entire crowd hushed in rapt silence." As the stars and stripes slid off the bronze memorial, thousands roared in applause and shouts. Cannons nearby thundered into the heavens. Lincoln's face again looked upon the nation's capital. The Marine Band erupted in "Hail to the Chief," followed by letters and poetry.
Last updated: February 14, 2021