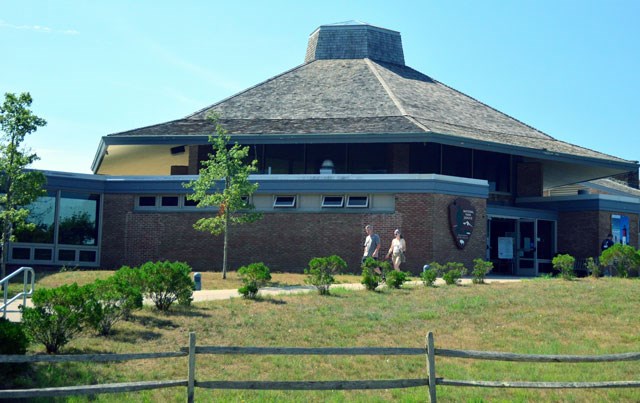 Salt Pond Visitor Center Salt Pond Visitor Center is Cape Cod National Seashore's year-round visitor facility, with a theater, store, museum, and restrooms. The seashore's new orientation movie, Standing Bold, plays throughout the day, and other films show on rotation. Films have open captions and assistive listening. Nearby are the popular 1.5 mile Nauset Marsh Trail, and the Nauset Bicycle Trail, and the Buttonbush Trail, a .25 mile multi-sensory trail that featuring a guide rope and text panels printed in large lettering and Braille, as well as discovery activities for children.

In the visitor center lobby, a large map shows Cape Cod's glacial history, its position in the Gulf of Maine, and natural forces that continue to shape it. There are expansive views of the Salt Pond and Nauset Marsh. The visitor center museum emphasizes the cultural themes represented on Cape Cod, including the First People--the Wampanoag; European settlement culture; fishing, life-saving, and lighthouses; communication technology; and tourism.

Salt Pond Visitor Center is located at 50 Nauset Road, at the corner of Nauset Road and Route 6 in Eastham. Hours: daily 9 am to 5 pm (4:40 from Labor Day to Memorial Day). Phone: (508) 255-3421.

The films at Salt Pond Visitor Center play daily on a regular schedule.