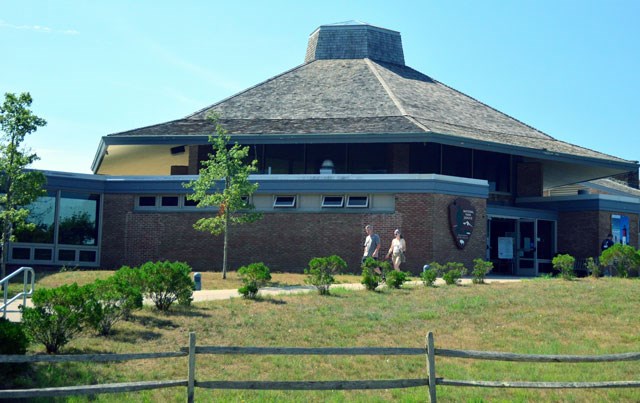 Salt Pond Visitor Center is Cape Cod National Seashore's main visitor facility, with a theater, bookstore, museum, and restrooms. The indoor theater has five short films played on request. Nearby access to the popular 1.5 mile Nauset Marsh Trail, and the Nauset Bicycle Trail, and the Buttonbush Trail, a .25 mile multi-sensory trail that featuring a guide rope and text panels printed in large lettering and Braille.
In the visitor center lobby, a large map shows Cape Cod's glacial history, its position in the Gulf of Maine, and natural forces that continue to shape it. The museum in the visitor center emphasizes the cultural themes represented on Cape Cod. A new section shows Wampanoag culture and history through artifacts, photographs and art. A partial wetu (Wampanoag home) can be seen.
Salt Pond Visitor Center is located at 50 Nauset Road, at the corner of Nauset Road and Route 6 in Eastham. Hours: daily 9:00 am to 5:00 pm. Phone: (508) 255-3421.

The films at the Salt Pond Visitor Center play daily on a regular schedule.