Shark Safety at Cape Cod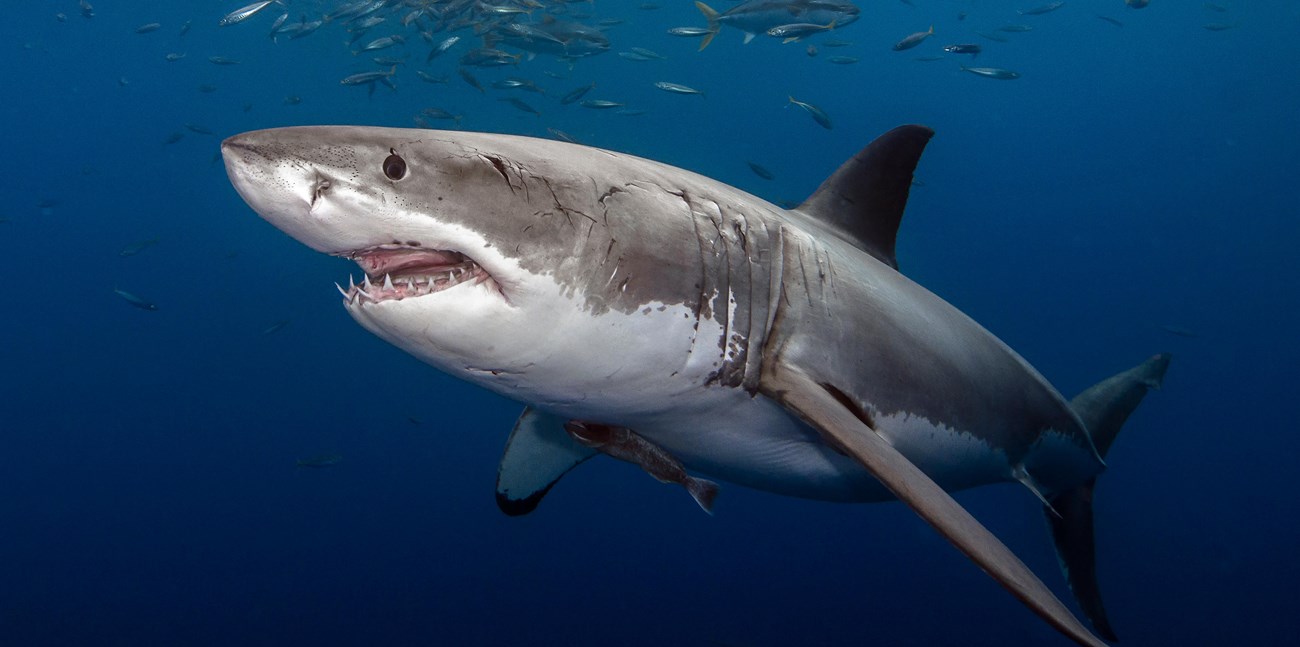 Shark Smart Tips
Be aware sharks hunt for seals in shallow water.
Stay close to shore where rescuers can reach you.
Don't isolate yourself. Swim, paddle, kayak, and surf in groups.
Avoid areas where seals are present.
Avoid areas where schools of fish are visible.
Avoid murky or low-visibility water.
Limit splashing.
Follow all signage and flag warnings at beaches and instructions of the lifeguards.
If You See a Shark and a Lifeguard is on Duty
Notify a lifeguard if a shark is sighted.
The water will be temporarily closed to swimming or surfing.
Beach goers will be notified when they can re-enter the water.
If You See a Shark and a Lifeguard is NOT on Duty
If it is an emergency dial 911.
If you have the Sharktivity App, report the sighting on the app.
If you do not have the Sharktivity App, contact one of the ranger stations at: (508) 255-2112 or (508) 487-2100. Make sure to tell the ranger you would like to report a non-emergency shark sighting. If no one answers, please leave a detailed message with your contact information and the shark's location!
Visit our keyboard shortcuts docs for details
Duration:

5 minutes, 40 seconds
Learn about the ongoing study of the great white shark, and the basics of shark safety while visiting Cape Cod. Whether you plan to visit a national seashore beach or town beach, knowing how to balance enjoyment with the risks is important to having a fun and safe experience.
Cape Cod's waters are part of a natural and wild marine ecosystem with a rich diversity of sea life, including sharks. Seals are the major prey species for the great white shark, and as the seal population increases, the great white shark has become more numerous. There are confirmed reports of great white sharks feeding on seals close to shore. Spotter planes flying along the Outer Cape have also observed great white sharks near swimming beaches.

The national seashore is committed to continuing to explore ways to educate the public to help reduce risk when recreating in wild habitats. While it is rare for a great white shark to bite a human, since 2012, sharks have bitten people three times in the waters off Truro and Wellfleet. One bite in 2018 resulted in a fatality.
Shark Facts
Sharks have existed for more than 400-million years.
As top predators, sharks are critical for maintaining a healthy and balanced marine ecosystem.
Great white shark numbers have increased on the Cape because of a growing seal population which has rebounded after being hunted to near extinction.
In 2019, the Woods Hole Group was commissioned to prepare an analysis of shark mitigation alternatives for Outer Cape Cod. View the report here.

A white shark silhouette on a purple background found on the flags at life-guarded beaches, when a lifeguard is on duty.