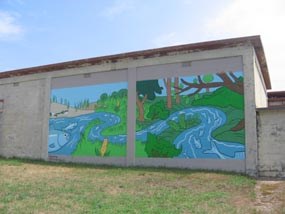 Partners and Volunteers Engage in Collective Artistic Action
Highlands Center at Cape Cod National Seashore is a special place in the park for artistic expression. New public art works complement the cultural programming occurring onsite by Payomet Performing Arts Center and Truro Center for the Arts at Castle Hill.
Fostering engagement in the site, Highlands Center partners have contributed creative expressions by painting colorful, evocative murals. From their conception by AmeriCorps Cape Cod members - to their completion by adults and children at annual public festivals - the celebratory murals showcase natural resource management and volunteerism through art.
Please check back to this page for the site's evolving artistic expressions.
Murals
PolliNation
- Pollinator Celebration Mural
Spreading Wings
- Migration pathways
Sprouting Forth
- Towards a Healthy and Sustainable Future
Taking Root
- Celebrating the Highlands Center community
Earth's Energy Cycle
- created in recognition of DOE ARM Climate Research Deployment 2012-2013
Herring Revival
- Herring run
Coastal Change mural
- Metamorphose
Celebrating Volunteerism mural
- Making Waves
Sculptures
Globes
- Looking Towards a Greener Tomorrow, Today