Highlands Center Programs and Events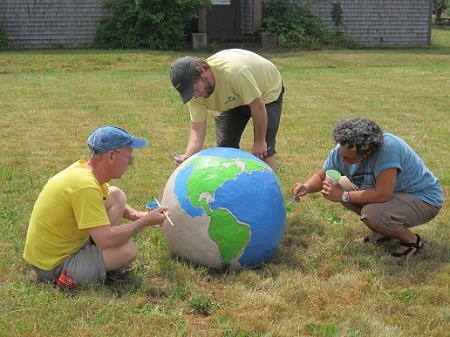 HIGHLANDS FEST 2018
Right Here Right Now
Saturday, June 30, 10 am to 1 pm. Free.
Join us for this year's Highlands Fest on Saturday, June 30th. Our theme, Right Here Right Now, captures the essence of the Highlands Center partner's initiatives to act now to lead more sustainable and healthy lifestyles to benefit our planet and ourselves.
Right Here Right Now was inspired by the Center for Coastal Studies' 1,000 Friends of Right Whales Emergency Initiative.
The critically endangered North Atlantic right whale may be extinct by 2050; the Center for Coastal Studies is working to increase the whale's chance for survival.
Come participate, exercise, paint and learn more about what our partners are doing to express our theme and how you can get involved. Highlands Fest is all inclusive and also features imaginative entertainment and refreshments. All ages and abilities are invited.
Highlands Fest is an annual celebration of the Highlands Center at Cape Cod National Seashore by its partner organizations: Barnstable County AmeriCorps Cape Cod, Cape Cod National Seashore, Payomet Performing Arts Center, Center for Coastal Studies, Sustainable CAPE, and Truro Center for the Arts at Castle Hill. We will also be joined by the Healthy Parks Healthy People team from Cape Cod Heathcare and Truro Public Library.
Payomet Performing Arts Center
Payomet celebrates its 21st season as one of Cape Cod's leading presenters of performing arts including professionally staged theater productions. Payomet's summer season also features music concerts by emerging and established artists, Circus Camp for children and CircusCape performances for the entire family at their Highlands Center tent from mid-June to mid-September. There is a great variety of offerings for the 2018 season, so please refer to their calendar and website.
Call
508-487-5400
for tickets or
visit the Payomet website
.
Fired Up! Castle Hill Wood Kiln
Truro Center for the Arts at Castle Hill will hold 2 firings of its wood-fired kiln at the Highlands Center.
June:
Loading Sunday-Tuesday, June 17-29, and unload Friday, June 22
October:
Loading Sunday-Tuesday, October 7-9, and unload Friday, October 12
To participate in one of the 2017 firings -
see www.castlehill.org
Walk: Truro's Cold War Past
Truro's Cold War Past
- 1½ hours, ¾ mile. Tour the former North Truro Air Force Station. Learn about the role the area played in our Cold War past, as well as the exciting plans for its future as the Highlands Center. 29 Old Dewline Road. Take Route 6 to Cape Cod (Highland) Light exit in Truro. Travel past the turn to the lighthouse. Turn left onto Old Dewline Road. Meet in the parking area.
Sundays at 3:00 pm.
[accessible]
Past Events
Annual Highlands Fest at the end of June.
Highlands Fest 2017: Bee Dynamic
Highlands Fest 2016: Spreading Wings
Highlands Fest 2015: Sprouting Forth
Highlands Fest 2014: Taking Root
DOE ARM Climate Research Facility (July 2012 - July 2013)
The Department of Energy's Atmospheric Radiation Monitoring System Mobile Climate Research Facility has been engaged in a one-year deployment at Highlands Center. The goal was to study aerosols - tiny particles in the air such as dust, soot and sea salt - to improve understanding of how aerosols effect Earth's climate.
Learn more about ARM at the Department of Energy website.
Last updated: June 4, 2018