Highlands Center Programs and Events
Calendar of 2016 Events - We and our partners offer the following activities: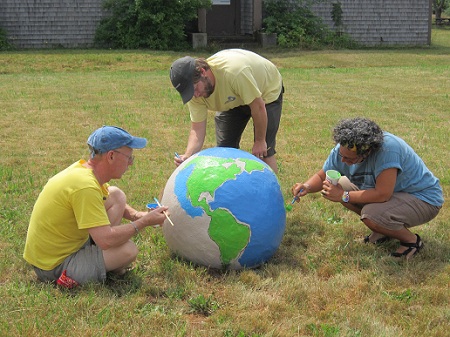 Walk: Truro's Cold War Past: Mondays at 10 AM July 4 to August 29. 1½ hours, ¾ mile. Free. Tour the former North Truro Air Force Station. Learn about the role the area played in our Cold War past, as well as its future as the Highlands Center.
Friends of the Cape Cod National Seashore Gala Centennial Celebration
"Summer Beach Party under the Tent" on August 9, 4-7:00 PM
Friends is hosting a "Summer Beach Party under the Tent" on August 9, 4-7:00 PM, at the Payomet Performing Arts Center in North Truro. Come celebrate 100 years of the National Park Service and help us raise funds to repair and reopen the popular Red Maple Swamp Trail at Fort Hill. There will be a special presentation by noted coastal ecologist, Dr. Stephen Leatherman, aka "Dr. Beach," who this year ranked the Seashore's Coast Guard Beach as number five in the nation! Enjoy hors d'oeuvres, wine and beer, dessert, the Calypso music of "The Magic of Steel," and a live and silent auction. $100 per person –for more information and to purchase tickets go to www.fccns.org
Payomet Performing Arts Center
Payomet has planned a dynamic & engaging 18th summer season with children's classes, theater & music at their Highlands Center tent from mid-June to mid-September.
Catch a nationally known musician, or have your kids take part in circus camp. There is a great variety of offerings this year, so please refer to their calendar and website.
Call 508-487-5400 for tickets or view www.payomet.org
Fired Up at the Castle Hill Kiln
Truro Center for the Arts at Castle Hill will hold 3 firings of its wood-fired kiln at the Highlands Center.
Firing June 19-21 and unload Friday June 24 at 9am
Firing Aug 21-23 and unload Friday Aug 26 at 9am
Firing October 8-10 and unload Friday Oct 14 at 9am
Past Events
Highlands Fest is an annual celebration of the Highlands Center by its partner organizations: Barnstable County AmeriCorps Cape Cod, Cape Cod National Seashore, Payomet Performing Arts Center, Provincetown Center for Coastal Studies, Sustainable CAPE, and Truro Center for the Arts at Castle Hill.
Annual Highlands Fest - Saturday, June 25, 2016 - event flyer
Fun-filled, participatory Highlands Fest was held Saturday, June 25th. The theme of "Spreading Wings" was inspired by the Atlantic Flyway for the millions of birds that fly over the seashore each year, migrating over the saltmarshes and windblown dunes. "Spreading Wings" also captures the symbolism of the Highlands Center partner's opportunity to take flight and flourish through expressions such as circus arts, mural painting, music, and education.
Highlands Fest 2015: Sprouting Forth was held Saturday, June 2, 2015 celebrating the Highlands Center "Sprouting Forth" as a destination for ecological understanding, art, green living and healthy physical activity.
Highlands Fest 2014: Taking Root - Saturday, June 28, 2014
Highlands Fest 2013:Weathering Change in our Air, Land & Sea
DOE ARM Climate Research Facility (July 2012 - July 2013)
The Department of Energy's Atmospheric Radiation Monitoring System Mobile Climate Research Facility has been engaged in a one-year deployment at Highlands Center. The goal was to study aerosols - tiny particles in the air such as dust, soot and sea salt - to improve understanding of how aerosols effect Earth's climate.
Learn more about ARM at their website.