Science in the Seashore Symposium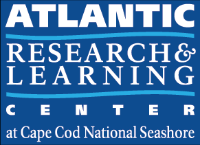 Science in the Seashore Symposium 2023
Cape Cod National Seashore's (CCNS) Atlantic Research and Learning Center (ARLC) will host the twelfth annual Science in the Seashore Symposium on Thursday, September 21st from 9:30 am to 1:00 pm. The event will be held at the auditorium at the Salt Pond Visitor Center in Eastham, MA. It will also be available online for remote attendees and presenters via Microsoft Teams.

The Science in the Seashore Symposium is a great opportunity to learn about the scientific research taking place at CCNS from the experts working in the park. The event is free, and open to the public. The program features a diverse group of scientists and scholars sharing natural and cultural research projects they are conducting within the Seashore. There will be seven brief and engaging presentations with topics ranging from nutrients and algal blooms in kettle ponds, tracking common terns, monitoring eelgrass, the preservation of historic structures and more.

Each presentation will be followed by a brief period for questions. Those attending over teams will be encouraged to submit their questions through the meeting chat function in Microsoft Teams. NPS staff will be monitoring the chat throughout the Symposium.

The 2023 Science in the Seashore Symposium is sponsored by Friends of the Cape Cod National Seashore. The Friends have been the national seashore's philanthropic partner since 1987, and sponsors the Nickerson Fellowship, which provides annual grants for research in the national seashore.
Please register regardless of whether you plan to attend in-person or remotely.

Schedule of Presenters
Time

Presentations

9:30

Welcome and Opening Remarks – Geoffrey Sanders, Cape Cod NS – Chief of Natural Resource and Science

9:40

Title: Site selection model for eelgrass restoration and rehabilitation for Pleasant Bay, MA
Presenter: Alyssa Novak
Abstract: Restoration and rehabilitation of eelgrass beds is becoming a growing need as human activities result in significant impacts to nearshore ecosystems. Eelgrass beds provide a wide variety of ecosystem services, including dampening wave energy, improving water quality, providing food and habitat, and storing carbon. Since 1951, eelgrass in Pleasant Bay has declined by 55% due to stressors associated with increased watershed development and research suggests that increases in sea surface temperature (SST) due to climate change will further exacerbate losses in this system. To help prioritize sites for restoration and rehabilitation, our team developed a model that uses parameters that most influence the establishment and growth of eelgrass while also considering worse-case scenarios for sea-surface temperature (SST). The model identified over 1,285 ac for restoration and rehabilitation (an area larger than the current extent of eelgrass), with over 500 acres categorized as high priority. Our study provides important information on where Cape Cod National Seashore and its partners can target restoration and rehabilitation efforts to ensure that meadows thrive well into the future. 
Bios: Dr. Alyssa Novak is research faculty at Boston University. She works in a variety of temperate and tropical coastal ecosystems with a focus on seagrass ecology, blue carbon storage, and restoration. She developed a seagrass restoration site selection model for eelgrass in Great Marsh, MA and used the criteria to successfully transplant (1.5 acres) in Essex. She is also currently leading an eelgrass restoration in Nantucket, MA (1 acre), revised an eelgrass site-selection model for Great Bay Estuary, and is currently assisting Cape Cod National Seashore with eelgrass restoration and rehabilitation efforts. Dr. Novak has published over 90 papers, presentations, and technical reports on seagrasses. She has won the EPA merit award and NOAA Nancy Foster Scholar award for her work with seagrasses. Dr. Novak is also the seagrass leader for the International Union for Conservation of Nature and on the Board of Directors for SeagrassNet, a global monitoring program for seagrasses.

10:00

Title: Southern pine beetle surveys in Massachusetts
Presenter: Nicole Keleher Abstract: Southern pine beetle (SPB), a destructive insect native to the southern United States, has been expanding its range northward and poses a significant threat to our pitch pine resources in Massachusetts. Since 2014, DCR's Forest Health Program has undertaken statewide SPB detection surveys and monitoring projects. We will discuss the current status of SPB, the impact risks, and the influence of climate change. Additionally, the topics of management options, suppression techniques, and preventative measures will be covered.
Bio: Nicole leads DCR's Forest Health Program and is responsible for statewide projects investigating the impact of insects and disease on Massachusetts forests. Some of the forest health team's current work includes invasive species detection surveys, long term monitoring plots, biocontrol species establishment, and targeted treatment protection projects.

10:20

Title: Utilizing emerging tracking technology to investigate the staging behavior of common and roseate terns around Cape Cod, MA
Presenter: Keenan Yakola
Abstract: Cape Cod is perhaps the most critical pre-migratory staging site for Common (Sterna hirundo) and Roseate Terns (S. dougallii) in the northwest Atlantic. Thousands of terns from Long Island Sound, NY to Nova Scotia, Canada arrive to Cape Cod between July and September, taking advantage of the region's highly productive foraging grounds before embarking on their southbound migration. With the technological development of small <5g GPS tags, we now have the ability to collect fine scale movement data on these small seabirds, allowing us to investigate both local foraging trips and migratory movements. In June 2022 and 2023, solar powered GPS transmitters were deployed on Common and Roseate Terns in Maine and New Hampshire. These tags offload GPS data to small basestations erected across beaches on Cape Cod and the islands, providing the opportunity to track birds during the staging period. Preliminary data analyses have revealed important nocturnal roosting sites, foraging areas, and diurnal staging sites used by terns between July and September. These results will provide much needed data to improve offshore wind development risk assessments and equip managers with new information to support the protection of locally important tern staging areas.
Bio: Keenan Yakola is a Cape Cod native who has been studying seabirds in the New England region for over a decade. He received his M.S. at the University of Massachusetts Amherst as a fellow with the USGS Northeast Climate Adaptation Science Center evaluating long-term dietary shifts in four different breeding tern species in the Gulf of Maine. He is currently pursuing his PhD at Oregon State University, and working in collaboration with the National Audubon Society's Seabird Institute, to investigate the movement ecology of Common, Roseate and Arctic Terns in the Gulf of Maine. His primary research interests focus on understanding foraging, staging, and migratory movements of these species in relation to forthcoming offshore wind development and marine heatwaves

10:40

Title: Tending the Flock: the conservation and reproduction of Victorian wallpaper in the Penniman parlor
Presenter: Angela Campbell Abstract: Edward Penniman, Captain of the whaler Minerva, built his home on Fort Hill Road in Eastham, MA, in 1867-1868. The home, now part of Cape Cod National Seashore, provides visitors with a remarkable example of Victorian excess, particularly evident in the northwest parlor. The room is papered from floor to (and across!) ceiling with ornate paper, but it is the wallpaper in particular that reveals the Penniman taste for opulence. The flocked and gold wallpaper was a statement, welcoming visitors to the home and announcing the social and financial success of the Pennimans. For decades, however, the paper suffered damage from a difficult-to-mitigate leak along the room's chimney. In 2017, it was determined that the paper needed conservation. This talk will focus on the efforts of the NPS Historic Architecture, Conservation and Engineering Center to conserve the historic paper where possible and reproduce areas beyond repair.
Bio: Angela Campbell is a Project Inspector, COR, and paper conservator for the Northeast Region of the National Park Service. She joined the National Park Service in 2016 after working in the Sherman Fairchild Center for Works on Paper and Photograph Conservation at the Metropolitan Museum of Art for seven years, during which time she carried out an in-depth investigation into Dürer's Meisterstiche impressions, both within the Met's holdings as well as in collections in the US and abroad. Angela holds an MA degree and Certificate of Advanced Study in Art Conservation from Buffalo State College and undergraduate degrees in Art History and Italian Studies, as well as a Certification in Museum Studies from Connecticut College.

11:00

Break

11:20

Title: Nitrogen and carbon isotopes and relations to trophic condition in Cape Cod National Seashore freshwater lakes
Presenter: Theodore Kuhn
Abstract: Water clarity remained constant or increased from 1996-2016 in most freshwater ponds within Cape Cod National Seashore (CCNS), but declined significantly in five ponds, a change which could be due to an increase in primary productivity resulting from higher nutrient availability. With CCNS experiencing increases in the year-round human population, visitation, and the associated potential for human-caused nutrient loading, determining the sources of limiting nutrients entering CCNS ponds is a major management interest. We measured nutrient concentrations, nitrogen and carbon stable isotope ratios, and related these to measures of productivity and clarity, to examine the effects of nutrient loading on trophic state and to identify potential variations in nutrient sources, Twelve ponds in Cape Cod National Seashore (CCNS) and one pond outside of CCNS in the town of Orleans were visited biweekly to measure chl-a, secchi depth, physicochemical profiles (temperature, dissolved oxygen, and pH), dissolved inorganic nitrogen (DIN) and total phosphorus (TP). In addition, tissue samples of aquatic dragonfly nymphs and aquatic macrophytes were collected and measured for stable isotope ratios of nitrogen and carbon (δ15N and δ13C). Chl-a / secchi depth correlated positively / negatively with TP and less strongly with DIN. δ15N and especially δ13C increased with maximum pond depth. The Gull – Higgins – Williams – Herring group of ponds, which share surface water connections with each other and to Wellfleet Harbor via the Herring River, were more productive than expected based on nutrient concentrations, and differ isotopically from the rest of the studied ponds: Gull and Higgins Ponds had especially high δ15N and δ13C values, suggesting a possible difference in nitrogen source.
Bio: Theo Kuhn is a master's student studying physical geography and hydrology at the University of Colorado Boulder. He has been swimming and fishing in the freshwater ponds of Cape Cod National Seashore his entire life, and has studied these ponds with the help of the Natural Management & Science Division at Cape Cod National Seashore and the support of the Joshua A. Nickerson Fellowship. This fellowship is offered by a partnership of the Cape Cod National Seashore Advisory Commission, Atlantic Research & Learning Center, and Friends of the Cape Cod National Seashore, to support individuals whose work will contribute to our knowledge of natural and cultural resources within Cape Cod National Seashore, and of the relationships of these resources to the local communities in which they are found.

11:40

Title: Tidal restoration of East Harbor: Understanding the recovery of horseshoe crabs.
Presenter: Kelly McCusker
Abstract: East Harbor is a brackish water lagoon with both freshwater and tidal inputs. Starting in the mid-19th century, the connection to Cape Cod Bay was closed, converting East Harbor to the freshwater system known as Pilgrim Lake. Without the flow of seawater, a series of problems developed, including poor water quality, fish kills, algal blooms, and insect outbreaks. In 2002, the Town of Truro and the Cape Cod National Seashore partially restored the connection to Cape Cod Bay by opening an 800 ft long culvert beneath Route 6. Restoring the tides to East Harbor has improved water quality and reintroduced marine flora and fauna. In recent years, the regionally vulnerable horseshoe crab (Limulus polyphemus) has become common in East Harbor, marking the recovery of an important predator in the food web of this ecosystem. In our study, we aim to examine the population of horseshoe crabs in East Harbor and track horseshoe crab movements to understand how they use this habitat. The results of our study will help Cape Cod National Seashore make science-based decisions on the management of this natural resource.
Bio: McCusker is a Master's student at Antioch University studying conservation biology. Kelly currently completing her master's thesis on the recovery of horseshoe crab populations in the Cape Cod National Seashore. She is interested in coastal restoration projects and wetlands ecology.

12:00

Title: Hazardous algal blooms in coastal and shoreline areas of National Parks: Response to potential toxin exposure.
Presenter: Jamie Kilgo
Abstract: Visitors to Cape Cod National Seashore enjoy swimming, fishing, and kayaking in the beautiful coastal waters and inland freshwater ponds. Despite its picturesque setting, the Seashore, along with many national park units nationwide, are grappling with adverse effects from harmful algal blooms (HABs). Impacts from HABs can range from unsightly accumulations of algae to human illness and wildlife mortality. While HABs have long been observed in the Seashore's coastal marine waters, it was not until 2019 that they were first detected in the freshwater kettle ponds. The recent occurrence of freshwater HABs signifies a new issue with potential health risks for visitors and their pets who recreate in the ponds. To further understand toxin occurrence and exposure risk, the Seashore participated in a novel nationwide HAB study led by the U.S. Geological Survey and the National Park Service to sample water from 21 national parks, including one kettle pond in Cape Cod National Seashore. We are collaborating with the National Oceanic and Atmospheric Association, U.S. Environmental Protection Agency, and the University of Wisconsin-Laboratory for Aquatic Environmental Microbiology and Chemistry to monitor for HABs using a suite of sampling and analytical methods. The methods encompass a spectrum of cost options, including some that are free to parks, and offer flexibility in staffing and time capacities, allowing park managers to tailor their response based on their needs and available resources. During this talk, we will provide an overview of HAB science and management in national parks, including ongoing and recently complete research, with a focus on results from Cape Cod National Seashore.
Bios: Danielle Buttke, DVM & PhD, is a veterinary epidemiologist and the One Health coordinator for the National Park Service. Danielle specializes in zoonotic disease and ecological drivers of infectious disease, and works with parks to prevent and manage human, animal, and environmental health issues.
Victoria Glenn Christensen, PhD, is a USGS research hydrologist who studies HABs, algal toxins, and cyanobacteria. She is a member of the Environmental Health Program's Algal Toxin Team and serves as the acting Communications Coordinator for the Water Mission Area.
Jennifer Graham, PhD, is the Chief of the Integrated Water Research Branch in the USGS New York Water Science Center. She also represents the USGS on the Interagency Working Group on Harmful Algal Blooms and Hypoxia. For over two decades Jennifer has conducted research on the environmental factors influencing the occurrence of cyanotoxins in the United States. She has conducted national, regional, and single-systems studies at a variety of spatiotemporal scales.
Jamie Kilgo is a Marine Ecologist for the National Park Service. She assists parks nationwide on ocean and coastal issues, with a focus on harmful algal bloom monitoring and management, coastal restoration and resilience, coral reef ecology, and seascape ecology. She also represents the NPS on the Interagency Working Group on Harmful Algal Blooms and Hypoxia and the US Coral Reef Task Force.
Kerensa King, PhD, is the Service-wide Aquatics Contaminants Specialist for NPS where she assists parks nationwide with water quality issues primarily ranging from chemical to biological. Her expertise includes the ecological impacts of pesticides, storm water runoff, heavy metals, mining, and oil and gas exploration and extraction.
Hayley Olds is a USGS Hydrologist with the Upper Midwest Water Science Center in Wisconsin, where her research has focused on freshwater quality assessments using both freshwater organisms and molecular source tracking. Hayley has expertise with monitoring harmful algal blooms (HABs) composition, toxicity, and spatial extent using low-cost sampling techniques such as Solid Phase Adsorption Toxin Tracking (SPATT) technology throughout the Upper Midwest and Northeast regions, and at National Parks throughout the country.

12:20

Q&A and Discussion

12:45

Closing Remarks - Geoff Sanders, Cape Cod NS – Chief of Natural Resource and Science

Last updated: September 22, 2023