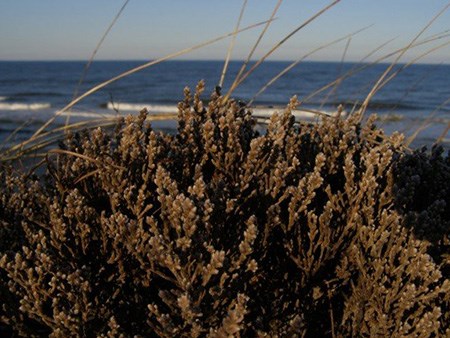 Cape Cod National Seashore harbors a diverse array of terrestrial, wetland, aquatic, and marine plants that are uniquely adapted to life in the coastal environment. More than 800 species comprise the vascular flora of the seashore, which are associated with a number of landscape features. For example, heathlands, grasslands, dunes, woodlands, forests, vernal pools, kettle ponds, salt marshes, freshwater marshes, intertidal zones, and seagrass beds are among the different community-types that can be distinguished by their own special kinds of plant life.
Past human activities on Cape Cod have played a major role in shaping the Seashore's vegetation. In fact, land-clearing practices by early European settlers gave rise to the seashore's extensive heathlands - a habitat that has since become globally rare. However, many plant communities within the Seashore are being negatively impacted as a result of human pressures on the environment. Sea-level rise, acid rain, ozone, groundwater withdrawal, nutrient enrichment, and invasions of exotic species are just a few of the threats that pose serious risks to plant diversity and ecological function across the landscape.
The Seashore is currently developing techniques to effectively monitor plant communities and determine how they are changing in time and space. Armed with this kind of information, we can then devise well-informed management strategies that will help protect these resources.
Guide to Common Salt Marsh Plants