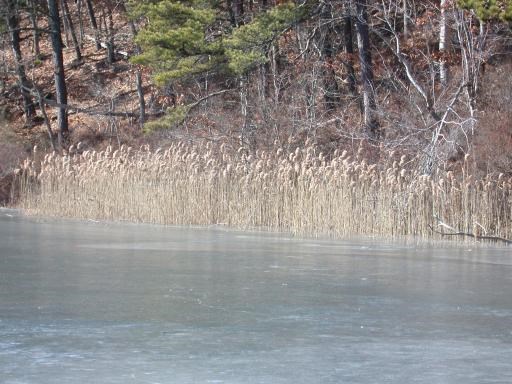 The non-native, invasive common reed (
Phragmites australis
) has become a problem of significant proportions throughout wetlands of North America. Originating from Eurasia,
Phragmites
is a large perennial grass that is now found in wetlands throughout temperate and tropical regions of the world. In suitable conditions, it can spread at a rate of 5 meters (~16 ft) or more per year through horizontal runners, which put down roots at regular intervals.
Phragmites
can grow in deep water and may even form floating mats. The erect stems range between 2-6 meters in height and populations develop such high densities that all other vegetation is excluded. It also tolerates salty water and can persist in areas with salinities up to 75% full-strength seawater. Within Cape Cod National Seashore,
Phragmites
occurs in a variety of ecosystems. These include inter-dunal wetlands, bogs, kettle ponds, and tidally restricted marshes.
Phragmites
stands are highly variable in size, ranging from just a few stems to many hectares. As a component of the National Park Service's mandate to control exotic vegetation wherever possible, the Seashore has developed a multifaceted approach that includes both mechanistic and chemical means of control.