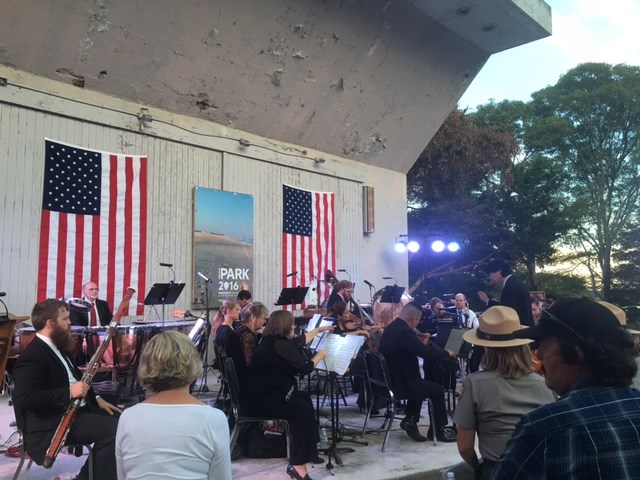 Salt Pond Amphitheater Rehabilitation
This historic outdoor amphitheater on the grounds of the Salt Pond Visitor Center in Eastham was constructed in the 1960s. Over time the amphitheater fell into disrepair. The audio visual system became outmoded, tree roots pushed up the asphalt, causing tripping hazards, and the drinking fountains ceased to function. Vegetation between the amphitheater and the pond grew in, which disrupted onshore winds that kept mosquitoes at bay. The amphitheater eventually became functionally obsolete and uncomfortable to use. In addition, it did not meet accessibility requirements.

Project Details
The national seashore competed successfully for National Park Service facility repair and rehabilitation funds in 2016 to rehabilitate the amphitheater as a signature NPS Centennial project. Work began in fall 2016 and will be completed in spring 2017.
An accessible path from the parking area to the seating area is being constructed. New asphalt will be laid down. Benches constructed from sustainable materials, and with backs for accessibility, will be installed. The amphitheater structure is being repaired and refreshed, and the drinking fountains will be made functional. The electrical system and lighting are being upgraded and enhanced, and a modern audio visual system is being installed. Overgrown vegetation between the amphitheater and the pond is being trimmed to provide views and air flow.

Status of Project
The project is currently being worked on by a contractor, completion is scheduled for late spring, 2017.