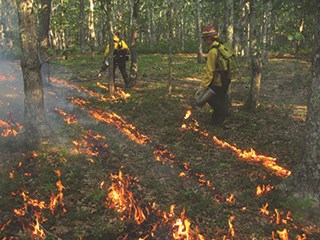 The Lombard-Paradise Hollow Fire Management Research Area encompasses approximately 30 acres of land within Cape Cod National Seashore. Located west of Route 6 in South Truro, the research area is situated on top of a plateau between Paradise Hollow to the south and Lombard Hollow to the north.
Periodic wildland fire helped create the fire-adapted pine-oak woodland vegetation type found throughout the Seashore and within the research area. The dominant canopy species are pitch pine (
Pinus rigida
) and white and black oaks (
Quercus alba and Q. velutina
), with scrub oak (
Q. ilicifolia
), huckleberry (
Gaylusaccia baccata
), blueberries (
Vaccinium spp.
), and wintergreen (
Gaultheria procumben
s) in the understory.