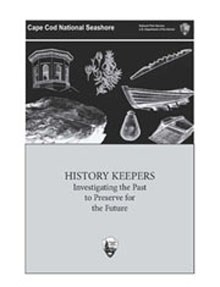 "History Keepers: Investigating the Past to Preserve for the Future"
Recommended ages, 10 years old and up.
What is this workbook & how to use it.
Does being a detective interest you? Does solving mysteries sound exciting? People who work in historic preservation solve mysteries related to our history.
The activities in this workbook introduce kids to the concept of cultural resources…those historically important landscapes, structures, archeological sites, people and museum objects that tell the story of people in the past. It's your job to uncover the clues so the story can be as complete as possible.
It is recommended that you read and complete the Introduction and Unit 1-Cultural Resources activities at home. Activities in Units 2-7 can be done alone or in combination with others while visiting the park.
Units 2-5 use the Fort Hill Area as their case study, Unit 6 requires a visit to the museum at the Salt Pond Visitor Center, Rte. 6, Eastham. Unit 7 activities-"Wayside Exhibits" can be started anywhere in the park and then completed at home.
Have fun as you follow clues to uncover the history of Cape Cod National Seashore and preservation goals of the National Park Service!
NOTE: This publication is a work in progress; improvements and corrections will be made after education rangers have tested the contents with school groups and families in 2011-2012. Click on the highlight to the right to open and print the workbook units. Be sure to print the units and activities out and bring them with you for your detective work, copies are not available in the park.