The Three Sisters Lighthouses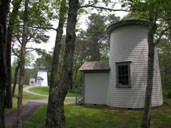 The Three Sisters - A Chronology
An 1836 petition by Eastham residents concerned about loved ones at sea caused the Boston Marine Society to recommend to the United States Congress the construction of the Nauset Lights. Congress granted $10,000, and the contract was awarded to Winslow Lewis, the lowest bidder at $6549.
Three 15-foot high masonry towers were built. The lights soon gained the nickname "The Three Sisters" because from sea they looked like women in white dresses with black hats.
Cape Cod shores change quickly. The National Lighthouse Board ordered three new moveable wooden towers to be built thirty feet inland from the original masonry ones.
The new towers stood twenty-two feet tall; the lantern housing added an additional seven feet. The old towers were allowed to fall into the Atlantic.
Advances in technology, the continuing erosion of Nauset cliffs, and the cost of maintaining three lights, prompted a major change at the Nauset Light station.
In 1911, the center tower was moved away from the cliff edge and attached to the 1875 keeper's house. The other two towers were set aside until a decision could be reached about their future.
The fourth-order Fresnel lens in the remaining tower was now mounted on a ball bearing revolver, making the light flash three times every ten seconds.
The decommissioned two sisters were sold at a public auction to Helen M. Cummings for $3.50! The Cummings family first moved them to a site near the old French Cable station, before making some repairs.
In 1920, the towers were moved onto Cable Road, and adjoined with a room. The "Twin Lights Cottage" was subsequently used as a summer cottage and a dance studio, until the towers were sold to the National Park Service in 1965.
After many years of service, the center tower fell into disrepair. The Lighthouse Bureau decided to replace it with one of the former Chatham "twin lights" that was no longer in use. This iron and brick tower was moved, repainted and stands today as the latest in a lineage of Nauset Lights.
Once decommissioned, the last of the Three Sisters towers was sold to Albert Hall, who turned it into a cottage.
The National Park Service purchased the center tower in 1975 with a plan to reunite it with the other two towers. The three are placed in their original orientation on a plot of land on Cable Road.
Restoration took place through the 1980s, and the site opened for its first public tour in 1989.
Today one can visit the Sisters and marvel at the remarkable journey that brought them their location on Cable Road in Eastham.