The Indian Neck Ossuary Site - Wellfleet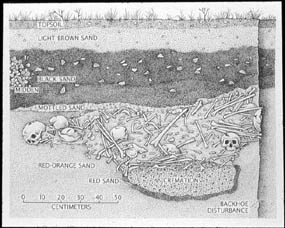 Another concentration of ancient activity and settlement was the area around Wellfleet Harbor on the bay side of the Cape. One of the most interesting sites in this area is the Indian Neck Ossuary, a burial dating to about AD 1100. "Ossuary" refers to a secondary burial that contains the remains of multiple individuals. The burials are referred to as "secondary" because the remains gathered together in an ossuary typically have been buried or exposed elsewhere first. During the original temporary burials the flesh and soft parts of the bodies have decomposed, so by the time the individual remains are collected for the ossuary, only the bones remain. In North America, the ossuary form of burial is well known from the periods just before European colonization in the Chesapeake region and northwestern New York and adjacent Ontario. The Indian Neck ossuary is the best known and most completely reported in New England.
The site was discovered accidentally in 1979 when a backhoe digging a trench for a home improvement project on private land uncovered human bones. After ascertaining that the human remains were not related to a homicide or other recent event, archeologists from the National Park Service conducted an archaeological salvage excavation to recover the remains and information about them before they were destroyed by the modern development. The ossuary burial is quite concentrated with all the human bone packed together tightly and covering a roughly oval area, with maximum dimensions of approximately 1.5 meters by 3 meters. The portion of the site that was excavated consisted of the half of the ossuary that was not destroyed by the backhoe digging, and contained the remains of at least 56 individuals. Most age groups and both sexes were represented in proportion to their expected occurrence in a typical human population, except for an absence of very young infants. Judging from the condition of the bone, the community represented by this burial population was relatively healthy. There was little evidence of any dental decay, infectious disease, or malnutrition. The absence of tooth decay suggests that the diet did not at this time include substantial amounts of ground maize, so intensive horticulture probably was not practiced at this time in the area. The ossuary suggests a centralized and communal burial practices which in turn indicates a sedentary settlement pattern. This site, plus other evidence from sites in the Nauset area support the existence of settled village life by inhabitants of Cape Cod by at least 1000 years ago.
Francis P. McManamon, National Park Service
Last updated: October 31, 2017