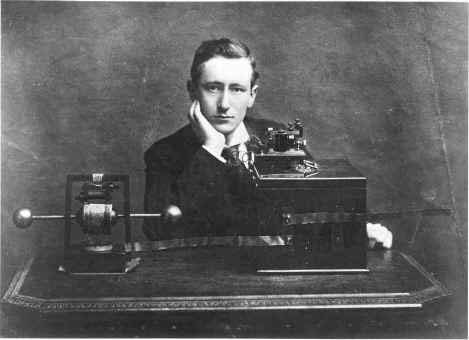 The Birth of an Idea
The experiments of Heinrich Hertz inspired the idea. This German physicist first demonstrated the existence of electric and magnetic waves, and with this revelation young Guglielmo Marconi began dreaming of a way to send messages from transmitter to receiver without the aid of wires. In 1894 Marconi retreated to a top floor laboratory of his family's Villa Grifone near Bologna, Italy, and at the age of twenty began his experiments in earnest. At first, Marconi used homemade equipment, testing and repeatedly modifying it, each time stretching to greater limits the distance that signals could be received from a transmitter. First it was 30 feet. Then it was one mile. Then it was twenty and fifty miles. By 1901, Marconi achieved a range of 200 miles. Wireless telegraphy was suddenly the rage of Europe – and then of America.
On December 12, 1901 in St. John's, Newfoundland, Marconi raised a kite with an antenna dangling from it. He sought to prove that radio waves could cross the Atlantic. Through that hanging wire he heard the anticipated signal from across the ocean. The first transatlantic signal from England had been detected.