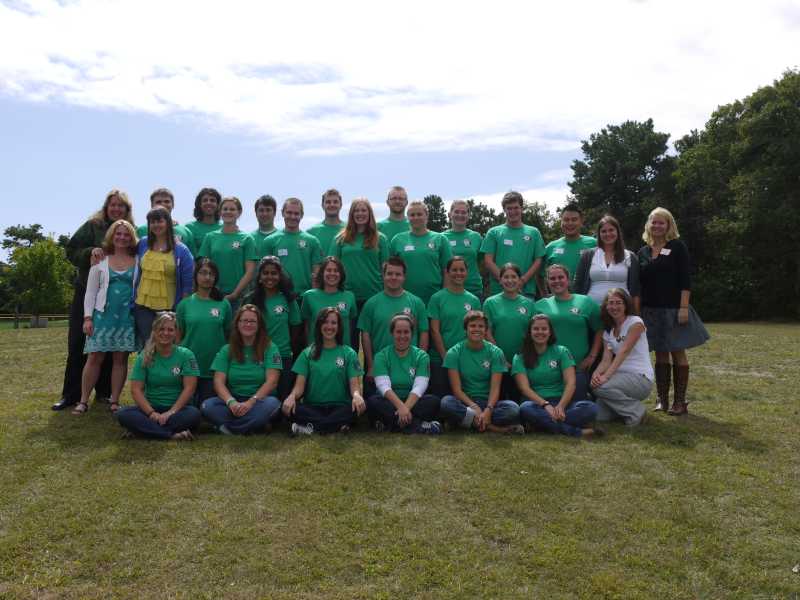 We are proud of our park partnerships that continue to flourish and grow within the national seashore. A mix of government, non-profit organizations, and institutional and for-profit groups work together to protect and research park resources, and provide visitor services and programs, enhancing the ability of the National Park Service to carry out its mission. There are several park partner groups that operate through partnership arrangements, as well as formal fundraising agreements. Many of these partners are noted on Cape Cod National Seashore's web pages.
Cape Cod National Seashore recognizes private philanthropy as both a long-standing tradition of the national parks and as a vital element of National Park Service (NPS) success. Funds raised by partner organizations and volunteer hours contributed by individuals and organizations provide a strong connection between the donor and the park. The park appreciates the generosity of those who donate their time or their funds directly, as well as those who work through non-profit organizations for the park's and the public's benefit.
Park partnerships are carried out under the auspices of the National Park Service and support the NPS mission. We have a strong commitment to safety and resource protection, and we strive to ensure that partners and volunteers share this commitment. In addition, park visitors and community members often view partners and volunteers as extensions of park staff. Therefore, the conduct of partner staff and volunteers must exemplify the highest standards of conduct and service, including customer service to all who are encountered when partners and volunteers carry out their work.

EASTERN NATIONAL
Eastern National promotes the public's understanding and support of more than 130 of America's national parks and other public trusts. At Cape Cod National Seashore, Eastern National manages the gift and book stores in the visitor centers, returning a percentage of the proceeds to the seashore for interpretation, education, and research. The bookstores are an extension of the seashore's interpretive program; items are selected because they reflect the seashores resources and themes, they have educational value, and they enhance public understanding. Eastern National also operates the gift and book store at Highland Light, and conducts tours to the top of this tower, with it rich history as the first lighthouse on Cape Cod, and its commanding view of the Outer Cape.
Eastern National's contributions have benefited the seashore and visitors in many ways. Eastern National frequently sponsors interpretive programs for visitors, such as an annual Wampanag culture event, National Junior Ranger Day, and speaker programs at visitor centers. For many years Eastern National has underwritten the seashore's Junior Ranger Program, introducing thousands of youngsters to the unique resources here and the importance of protecting them in the future. Eastern National funds are used to produce the annual seashore newspaper, as well as research about significant seashore resources, such as Old Harbor Life-Saving Station and the historic hay barge that is on display at Salt Pond Visitor Center. In addition, Eastern National funds the national seashore's cell phone interpretation program.
Eastern National was chartered in 1948. Its policies and programs are guided by an elected board of directors. The board, the members and the staff are dedicated to the preservation and use of the parks for the benefit of all Americans, visitors from all nations and future generations. Eastern National currently operates educational retail outlets in 30 states, from Maine to the Caribbean. Since 1947, Eastern has donated over $95 million to the National Park Service.
Link here to
Eastern National's retail webpage for Cape Cod National Seashore
.
FRIENDS OF THE CAPE COD NATIONAL SEASHORE
Friends of the Cape Cod National Seashore is is a non-profit organization of caring individuals who have a very special love and respect for this spectacular National Park. Their purpose is to support and enhance people's enjoyment of the seashore by:

funding worthy environmental, historical, educational, and recreational programs such as refurbishing the Old Harbor Life-Saving Station in Provincetown, replanting areas after removal of invasives species, and sponsoring summer band concerts;
publicizing issues that affect the protection and preservation of the seashore's resources; providing volunteers for important projects such as as trail maintenance programs, beach clean-ups and dune grass plantings;
managing several special funds that contribute to important educational, archival and research projects at the seashore.
TRURO HISTORICAL SOCIETY

The Truro Historical Society has an agreement with the national seashore to operate the Highland House Museum, located near Highland Light and Highland Links Golf Course in the Truro Highlands Historic District. The museum, which is open from June through September, has an amazing array of museum objects, with a focus on Truro history. In addition, the museum hosts special events, musical performances, and lectures during the summer season.

NAUSET LIGHT PRESERVATION SOCIETY
Nauset Light, located within Cape Cod National Seashore, was originally built in 1877. Eastham residents formed the non-profit Nauset Light Preservation Society in 1993 in order to move the light from the imminent danger of erosion. In 1996 the light was successfully moved. The society preserves the lighthouse and oil house, and provides tours from spring through fall.

BARNSTABLE COUNTY AMERICORPS CAPE COD
Barnstable County AmeriCorps Cape Cod (ACC) offers a diverse group of trained adults a residential living opportunity serving the critical environmental and disaster preparedness needs of Barnstable County. Part of a national network, it pairs service-minded volunteers with citizens, educators, scientists, and environmental professionals to promote land and water conservation, environmental education and disaster preparedness.