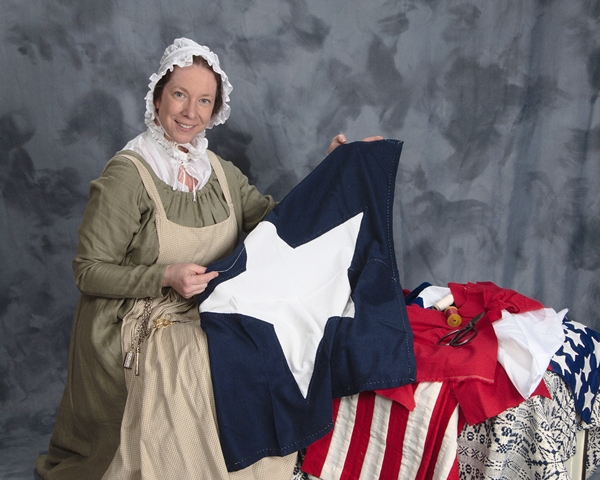 News Release Date:
March 8, 2016
Contact: John Harlan Warren, public affairs officer, 917-829-0425
Free program offered March 23 at Castle Clinton National Memorial

WHAT: Betsy Ross may have designed it, but she never made one this large! Celebrate Women's History Month by "meeting" Mary Pickersgill, who created the flag that flew above Fort McHenry during the Battle of Baltimore, inspiring Francis Scott Key to write "The Star Spangled Banner," our national anthem. The original 42' x 30' flag is now preserved at the Smithsonian Institution.
WHO:           The character of Mary Pickersgill, a woman who lived in Baltimore during the War of 1812, will be played by Kim Hanley of American Historical Theatre. 
WHEN:         Wednesday, March 23, 2016. Hour-long programs begin at 11 A.M. and 12:30 P.M. Admission is free. Space is limited and reservations are required. Call 646-841-4289 to claim a seat.
WHERE: Castle Clinton National Monument, located at Battery Park at the tip of Manhattan. Like Fort McHenry, Castle Clinton was a fort built to defend a major American port from British invasion during the War of 1812. Along with a network of fortifications within New York Harbor that included Castle Williams on Governors Island, among other forts, Castle Clinton stood guard against the nation's enemies.
 
About Castle Clinton National Monument


Located at the southern tip of Manhattan Island, Castle Clinton National Monument stands where New York City began. The former fort represents not only the city's growth, but the growth of a nation. Initially intended to prevent a British invasion in 1812, the fortification transformed over the years into a concert hall, a pre-Ellis Island immigration station for the State of New York, a city aquarium and now as a National Park Service site serving visitors to New York Harbor.


—NPS—