Full Day Adventure: Middle District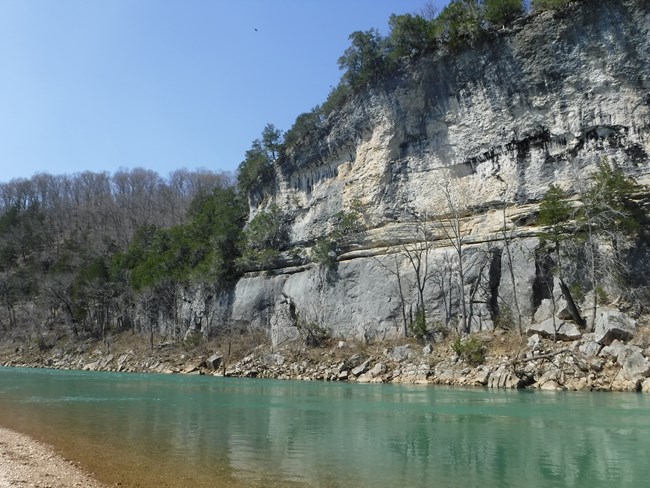 Float Tyler Bend to Gilbert (5.5 miles)
The most popular section of river in the Middle District is Tyler Bend to Gilbert. At moderate river levels, this float can be done in about 3 to 4 hours. To avoid crowds during peak season and/or on weekends, get started before 10:00 AM. There are several gravel bars along the way that are perfect for a picnic lunch, some fishing, and a refreshing swim. Click here for canoe rental information. Please review boating safety guidelines before you go, and always practice Leave No Trace.
Stop by the Tyler Bend Visitor Center
After your float, change into your hiking clothes and discover something new at the Tyler Bend Visitor Center, open 7 days a week from 8:30 AM to 4:30 PM. The center includes interpretive exhibits about the Buffalo River, a theater showing the park documentary, a small bookstore/gift shop, outdoor viewing platforms, and an information desk staffed by National Park Service rangers.
Explore the Collier Homestead
The Collier family homesteaded one of the last parcels of land available along the Buffalo River when they moved from Kentucky in 1928. Solomon "Sod" Collier, his wife Ida Mae, and two of their seven children built the cabin and a life here. Sod and Ida Mae stayed until 1962.
Visitors can explore the homestead by walking 1/10 mile down an easy trail from the Collier Homestead parking lot. A brochure is available at the Tyler Bend Visitor Center.
Hike the Riverview Trail
Continuing past the Collier Homestead, hikers may follow the Riverview Trail to a series of overlooks high above the Buffalo River. At 1.5 miles each way, this trail connects the Collier Homestead parking area to the Tyler Bend Visitor Center, campground, and river access.
Click here
for more information about the Riverview Trail.
Last updated: June 30, 2021