News Release
National Park Service Announces 2018 Rural Fire Readiness Grant Recipients
Date:
April 20, 2018
Contact:
Casey Johannsen, 870-449-4311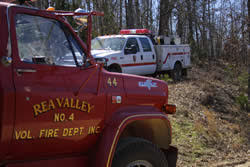 This year the Arkansas National Parks Fire Management Group is pleased to announce the recipients of the 2018 Rural Fire Readiness (RFR) grant program. The RFR grant program pr
ovides funding from the U.S. Department of the Interior, through the National Park Service (NPS) Office of Wildland Fire Management, to rural fire departments and fire associations that respond to wildland fire incidents on lands under NPS protection and that have a cooperative wildfire response agreement with the NPS. This grant money may be used to fund needed supplies, trainings, equipment, wildfire prevention, and wildfire mitigation materials and activities.
The Arkansas National Parks Fire Management Group consists of Pea Ridge National Military Park, Buffalo National River, Fort Smith National Historic Site, Hot Springs National Park, Arkansas Post National Memorial, President William Jefferson Clinton Birthplace Home National Historic Site, and Little Rock Central High School National Historic Site. Each department included in the grant program was eligible to receive up to $4000 worth of funds to use towards filling their wildland fire program needs.
Tim Fondriest, Wildland Fire Operations Specialist for the Arkansas National Parks Fire Management Group, says, "This is a great way to provide the volunteer fire departments with wildland fire training and the 
equipment they need to safely engage these wildfires. They (VFDs) do a great job of protecting the NPS lands and the visitors to national park units of Arkansas, we are glad to provide this funding to support them."
Buffalo National River area volunteer fire departments (VFDs):
·
Mt. Sherman VFD – Newton County
·
Jasper VFD – Newton County
·
Parthenon VFD – Newton County
·
HA-RA-CO VFD – Searcy County
·
Deer VFD – Searcy County
·
Western Grove VFD – Newton County
·
Rea Valley VFD – Marion County
·
Ralph-Caney VFD – Marion County
·
Snowball VFD – Searcy County
·
Ponca VFD – Newton County
·
Mt Judea VFD – Newton County
·
Krooked Kreek VFD – Boone & Newton County
·
Compton VFD – Newton County
·
Hasty VFD – Newton County
·
Marshall VFD – Searcy County
·
Pindall, Gilbert & St. Joe VFD – Searcy County
Pea Ridge National Military Park area departments:
·
Northeast Benton County (NEBCO) Fire Department – Benton County
·
Avoca VFD – Benton County
·
Pea Ridge VFD – Benton County
Hot Springs National Park area departments:
·
Hot Springs FD – City of Hot Springs / Garland County
·
Morning Star VFD – Garland County
·
Fountain Lake VFD – Garland County
·
Piney VFD – Garland County
Arkansas Post National Memorial area department:
·
Gillett VFD – Deshea County
According to NPS Fire Management Officer Fenn Wimberly the Rural Fire Departments are often the first units to respond to wildfire because they receive the 911 calls first and are located nearby. "The departments play an invaluable role in supporting NPS efforts to manage wildfires. As the first units on scene they protect structures in wildland urban interface and provide the size up information that allows us to gain valuable information about each wildfire and how to manage it."
Last updated: April 20, 2018