News Release
Buffalo National River Superintendent Kevin Cheri Announces Retirement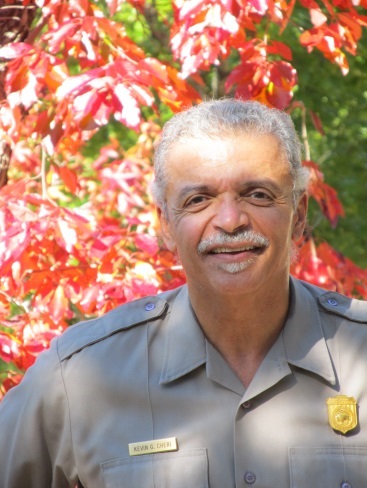 News Release Date:
December 4, 2017
Contact: Caven Clark, 870-365-2790
Harrison, AR: Buffalo National River Superintendent Kevin Cheri, is being recognized for exceptional leadership in the National Park Service and will be presented with the Regional Director's Award for Outstanding Service. Throughout his 43 years of service, Kevin has strengthened resource stewardship by advancing employee development, community engagement, diversity, and inclusion in parks. Please join us in thanking Kevin for his service in a ceremony at the Durand Center on Tuesday, December 12, 2017. Light refreshments will be served from 11:30 until 2:00 pm.
Kevin's National Park Service career began in 1974 as a seasonal ranger for four summers at Carlsbad Caverns National Park through Xavier University's Cooperative Education Program. In 1978, he was hired as a permanent Law Enforcement Ranger at Buffalo Point, becoming the first African American employee at Buffalo National River. After completing a two-year intake training program, Kevin was hired as a Supervisory Park Ranger at Canyonlands National Park in 1980. During much of the eight years he was there, Kevin was the only African American ranger in the entire National Park Service Rocky Mountain Region.
Kevin became the Superintendent of Fort Davis National Historic Site in 1988 and the Deputy Superintendent of Big Bend National Park and Rio Grande Wild and Scenic River in 1992. In 1996, he returned to his hometown of New Orleans, Louisiana to serve as the Deputy Superintendent at Jean Lafitte National Historical Park and Preserve, where he stayed until he became the Superintendent of Chattahooochee River National Recreation Area in 2000. In 2007, Buffalo National River beckoned him back.
Kevin is a remarkable advocate for the river and its surrounding trails and wildlife-not only because he's the Superintendent, and he and his family frequently hike and float there- but also because he understands the river's power to be an ambassador for the State of Arkansas.
With Kevin's leadership, the park has found new opportunities to welcome visitors, leading to greater river stewardship and economic development. Kevin has established safer and more accessible roads and trails, supported the expansion of park outreach programs, and facilitated the development of two environmental education centers in cooperation with Arkansas State University, the University of Central Arkansas, and North Arkansas College. He worked with members of the surrounding communities to establish the Buffalo National River Partners, a friends group dedicated to supporting the mission of the park.
Since his first permanent appointment, Kevin has successfully increased diversity in every park he has served. He is passionate about mentoring employees of all backgrounds to support a strong workforce into the future. He serves on the Parks and Conservation Advisory Council at Texas A&M University and also works with the Harrison Community Task Force on Race Relations.
Last updated: December 4, 2017