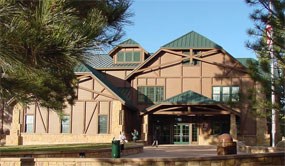 Visitor Center

Open Open All Year
Winter (December - March) 8:00 am - 4:30 pm
Spring (April) 8:00 am - 6:00 pm
Summer 8am - 8pm (May - September)
Fall (October & November) 8:00 am - 6:00 pm
Phone 435/834-5322
Location
4.5 miles south of the intersection of Hwy. 12 & Hwy. 63 OR 1.5 miles inside Bryce Canyon National Park's northern boundary.
Closures
Only on Thanksgiving Day, Christmas Day and New Year's Day
Special Programs
Short informational Video shown on the 1/2 hour and on the hour. Short Geology talks (usually held at Inspiration Point) are held in the Visitor Center Museum during bad weather.
Exhibits
A museum with displays on local Geology, Wildlife, Star Gazing, Historic and Prehistoric Culture.
Available Facilities

Restrooms, Bookstore, and a Ranger staffed Information Desk. Obtain Backcountry Permits at this desk.