Horseback Riding & Stock Use
Learn and Explore
Horseback riding is a great way to slow down and experience Bryce Canyon National Park. Horses have been used to explore Bryce Canyon National Park since before it was set aside for federal protection. To support this activity, the National Park Service completed 4.5 miles of foot and horse trails in 1931 that are still in use today.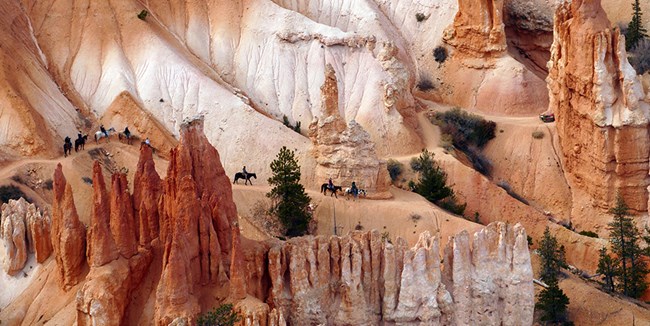 Guided Trail Rides
Want to get a different perspective of Bryce Canyon, check it out from the back of a horse. Canyon Trail Rides, the park's concessioner, offers 2-hour ($75 per person) and 3-hour ($100 per person) guided horse and mule rides into the Bryce Amphitheater along a dedicated horse trail and the Peek-a-boo Loop Trail.

Guided trail rides typically begin in April and run until October 31st, depending on weather.
Scheduling a Ride
To schedule a ride and for more information visit the Canyon Rides website or call them directly at 1-435-834-5500.
Bring Your Own Horse or Mule
The use of privately-owned stock on the trails of Bryce Canyon is permitted in certain areas and at specific times. Stock is defined as horse and mules, llamas and goats are prohibited.
Regulations and Guidelines
You are responsible for reviewing and understanding all Privately Owned Stock Regulations and Guidelines prior to your arrival at the park as well as understanding which trails are authorized for use.
Stock must never be left unattended.
Backcountry campgrounds are not developed to accommodate stock, therefore, overnight camping or pack trips on horseback will not be authorized.
Parking, loading, and unloading must take place in the Mixing Circle area and horseback riding is limited to authorized trails.
All rules and regulations regarding trail use will also pertain to horseback use of trails. This includes: horses must stay on trails at all times; shortcutting of trails is not permitted; and riding parallel to the trail is not permitted.
We require the use of certified weed-free feed. Stock must be fed certified weed-free feed a minimum of 48 hours prior to stock coming into the park.
All stock originating from outside of Utah must have current Coggins Certification. Rangers will check this prior to stock being allowed in the park.
Scheduling to Bring Your Own Horse or Mule
Private horse rides can be booked for time slots every half hour from 5 p.m. to 7:30 p.m. Each time slot can accomodate a maximum of ten riders and their mounts.

In order to avoid conflict with other horse rides and for the safety of other visitors and stock, all private horseback riding must be scheduled for a specific date and time prior to entering the park. Please e-mail us at least 72 hours in advance to schedule a reservation to ride your private stock. Liveries are not available in the immediate area.

Note: please do not e-mail about guided concessioner rides; see above for reservation information.
Camping
Camping with your stock is available in Red Canyon and on National Forest Service Land. Contact the Dixie National Forest Field Office at 435-676-9300 for further information.
Questions
We hope this information will be of value to you in planning and enjoying your horseback trip in Bryce Canyon. For additional questions about Private Stock Use call our office at 435-834-4761 or e-mail us.
Last updated: July 21, 2022