Horseback Riding & Stock Use
Horseback riding is a great way to slow down and experience Bryce Canyon National Park. Horses have been used to explore Bryce Canyon National Park since before it was set aside for federal protection.

To support this activity, the National Park Service completed 4.5 miles of foot and horse trails in 1931 that are still in use today for both guided and private horserides from approximately May through October each year, weather-permitting.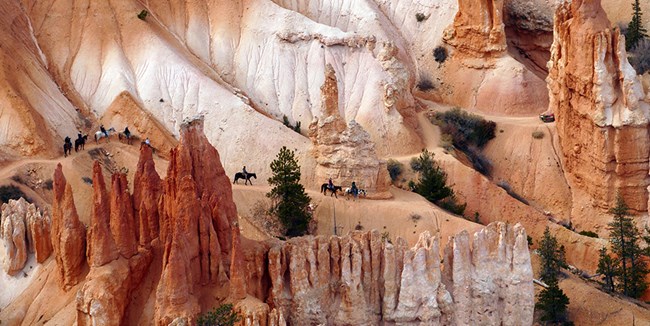 Guided Trail Rides
If you want to see Bryce Canyon from a different perspective, check it out from the back of a horse! Canyon Trail Rides, the park's concessioner, offers 2-hour and 3-hour guided horse and mule rides into the Bryce Amphitheater along a dedicated horse trail and the Peekaboo Loop Trail.

Guided trail rides typically begin in April and run through October 31st, depending on weather.

To schedule a guided ride or for more information, visit the Canyon Trail Rides website or call directly at 1-435-834-5500.
Bring Your Own Horse or Mule
The use of privately-owned stock on the trails of Bryce Canyon is permitted only in certain areas and at specified times. Stock is defined as horse and mules only. All other animals are prohibited.
Regulations
You are responsible for following the park's private stock regulations:
Horses and mules are prohibited outside of designated trails, routes, and designated areas.
The use of horses or mules is permitted only in the following areas:

On the established trail from the Mixing Circle to Sunrise Point,
From Sunrise Point down the horse trail to the Peekaboo Loop trail, and on the Peekaboo Loop trail, as shown on the horse use map.

Backcountry campgrounds are not developed to accommodate stock. Overnight camping or pack trips on horseback are not authorized.
Parking, loading, and unloading must take place in the Mixing Circle area only.
Horse and mule riders must clean up and properly dispose of, or remove from the park, horse/mule feces in the Mixing Circle, on Highway 63, and on any other paved surfaces.
Stock riders must ride the Peekaboo Loop in the clockwise direction, in compliance with posted directional arrows.
Horses and mules shall be fed only certified weed-free feed for at least 48 hours prior to entering the park and at any time while in the park. Any feeding of stock in the park is to be done at the Mixing Circle trailer parking and loading area.
Horse and mule riders must carry proof of ownership. Current approved forms of proof of ownership are found on the Utah Department of Agriculture and Food website.

All stock brought to the park must have a Certificate of Veterinary Inspection (valid for 30 days) and the certificate must show a negative Equine Infectious Anemia (EIA)(Coggins – AGID or ELISA) test within the past 12 months, UNLESS the animals have not left Utah in the past six months.

Stock must never be left unattended. Tying of horses and mules to trees or hitching rails within the park is prohibited.
Stock other than those belonging to park's authorized concessioner are prohibited from drinking from the water trough at the Peekaboo Loop corral.
Scheduling to Bring Your Own Horse or Mule
In order to avoid conflict with other horse riders and for the safety of other visitors and stock, all private horseback riding must be scheduled for a specific date and time prior to entering the park.

Private horse rides can be booked every half hour from 4:30 p.m. to 7:30 p.m. from approximately May through October. Each time slot can accommodate a maximum of ten riders and their mounts. This may include multiple parties. Reservations will be accepted beginning in April.

Please e-mail us at least 72 hours in advance to schedule a reservation to ride your private stock. Emails must include: Full name, requested date and time, and number of riders and mounts.
Note: please do not e-mail about guided concessioner rides; see above for reservation information.
All park visitors are required to pay a park entrance fee or present a valid pass upon entering the park. There is no additional fee to ride your own horse at Bryce Canyon. The NPS is evaluating the use of an online reservation system in the future, which may include a fee.
Camping
Stock camping is available in nearby Red Canyon and on U.S. Forest Service land. Contact the Dixie National Forest Field Office for further information. Liveries are not available in the immediate area.
Horse Use Map
Click here for a horse use map.
Questions
For additional questions about private stock use in Bryce Canyon National Park, please e-mail us or call 435-834-4748.
Last updated: July 12, 2023