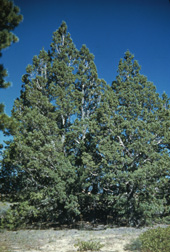 General Description:

Bryce Canyon National Park is home to three species of junipers. At high to mid elevations you will encounter a spreading shrub called Common Juniper,
Juniperus communis
. The low elevation forests consist mostly of Utah Juniper,
Juniperus osteosperma
, and Colorado Pinyon,
Pinus edulis
. Rocky Mountain Juniper,
Juniperus scopulorum
, is common in Bryce's middle elevations.
Although the Rocky Mountain Juniper can be found growing in close proximity with Utah Junipers, it prefers sites that are more cool and shady. Usually tall and slender, the Rocky Mountain Juniper grows up to 45 (15 m) feet tall with trunks 18 (.5 m) inches in diameter. They can survive because their leaves, which they retain all year, are reduced to tiny, waxy scales covering their twigs and small branches. Their fruits, fleshy cones which resemble berries but are actually cones, have one or several seeds inside, and are coated with water-retaining wax. The juniper berries are pea-to-marble-sized, usually blue in color, with a powdery coating that can be rubbed off to reveal its greenish-brown flesh. The seeds are mealy and fibrous. The bark is gray-green on the surface but reddish-brown and fibrous underneath.