Red Canyon Penstemon
Common Name(s): Red Canyon Penstemon, Red Canyon Beardtongue, Platy Penstemon
Scientific Name: Penstemon bracteatus
Size (height) English & Metric: 2-5" (5-13cm)
Habitat: Dry, gravelly slopes and talus.
Flowering Season (for Bryce region): May - July
Range: Only in Bryce Canyon and Red Canyon area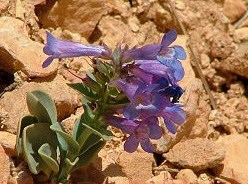 General Description:
Leaves are ovate and spatulate. The blue to blue-violet flowers are tubular with two upper and three lower lobes at the open end. The Mat Penstemon,
Penstemon caespitosus,
is similar in appearance, however Mat Penstemon has tiny stems so that their flowers appear to be lying on top of the small clumps of ground-hugging leaves.
Plant Lore:
Because this particular species has such a small range, it is doubtful that it ever became an important plant for human use. Penstemons in general are enjoyed for their beauty and not medicinal purposes.
Conservation Message:
This species is extremely rare and because of its small size is often inadvertently destroyed by careless hikers who leave the Bryce Canyon trail system for any reason. Please stay on established trails and be wary of what is underfoot.
When and where to see at Bryce:
Along the upper banks of the Peekaboo Trail from May - July.
Further Reading:
Cronquist, Holmgren, et. al. 1984. Intermountain Flora - Volume Four. The New York Botanical Garden. Bronx, NY.
Spence, John and Buchanan, Hayle. 1993. "1993 Update, Checklist of the Vascular Plants of Bryce Canyon National Park, Utah." The Great Basin Naturalist, Volume 53, No. 3.
Last updated: February 24, 2015