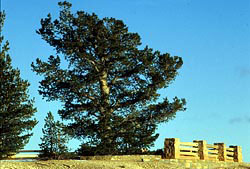 General Description:

The Limber Pine, a very durable tree, grows near timberline, from 5,000 to 12,000 feet. Because it is an exceptionally slow growing species, it does not compete well with the other conifers in its habitat. So you will only find it growing in places where White Fir, Western Hemlock, Lodgepole Pine, Douglas-fir and Engelmann Spruce can't survive. This often means southwestern slopes, on the very edge of cliffs or in pockets on talus slopes. Ironically, it's the Limber Pines that will eventually stabilize enough soil to make it possible for the other trees to grow on the same location.
This pine has a short, thick trunk with an irregular crown and can develop a stunted, twisted form, very low to the ground. Compared to many of the other conifers, this is a relatively small tree, usually 25 to 30 feet tall and about 12 to 30 inches in diameter. The cones are light brown, 3-10 inches long without prickles, but with very thick scales. They tend to hang down from the branches. The needles are found in bundles of five, in tufts, at the ends of the branches. The tree sheds its needles about every five years.