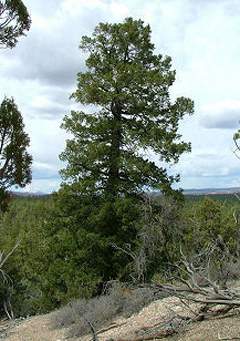 General Description:
The Douglas-fir,
Pseudotsuga menziesii
, is not a true fir, nor is it a hemlock, even though "
Pseudotsuga
" means false hemlock. It is in a separate genus. This widespread conifer occurs often in pure stands as well as mixed forests. This species has narrow pyramidal tops and long straight trunks. In places where sunlight and water are sufficient, branches may extend almost to the ground. In less optimal locations, Douglas-firs will self-prune so that the lower 1/3 to 1/2 of the long trunk is usually devoid of branches. The bark is generally a dark reddish-brown. Mature trees have extremely thick bark, as much as 10 inches near the base of the trunk.
The needles are ¾-1½" long, bright green on top, paler below, blunt tipped, and basically flat in cross-section. When crushed, the needles have a lemony/citrus smell. The cones are the most diagnostic portion of the tree, being oval in shape, cinnamon brown, 1½ to 4½ inches long. Unlike true firs whose cones are located only in the top of the tree and stand straight up, Douglas-fir cones are evenly distributed throughout the crown and hang down from the branches. A sure key to identification is the 3-pointed bracts, which look like the hind-end of a mouse, protruding between the scales.