Bryce Canyon Paintbrush
Common Name(s): Bryce Canyon Paintbrush, Bryce Canyon Indian Paintbrush
Scientific Name: Castilleja revealii
Size (height) English & Metric: 3-6" (7-15 cm)
Habitat: Dry, gravelly slopes
Flowering Season (for Bryce region): May - August
Range: Found in only three counties in southern Utah.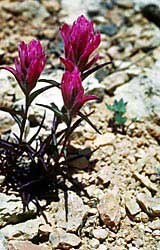 General Description:
This is a rare member of the figwort family that grows only in the Bryce Canyon National Park region. It was first described from specimens found in the park. This species of paintbrush is one of the smallest of the genus, seldom growing more than 6 inches tall. It is pale to deep fuchsia in color.
Plant Lore:
The main body of the true flower in all paintbrush species is actually hidden within the colorfully evolved tubal leaves which appear to be the flower. This style of modified leaves supports the theory that flowers may be an evolutionary functional divergence from leaves. Like most paintbrushes, this species is semi-parasitic, producing only part of the food it needs through its own photosynthesis. The rest of its nutritional needs it acquires from other plants by penetrating the host plant's roots with its own.
Conservation Message:
Paintbrush species are popular among flower enthusiasts but are extremely hard to transplant due to their semi-parasitic nature; therefore they are best viewed in the wild and left undisturbed. Remember that picking wildflowers is illegal in all National Park Service areas. Be a responsible plant lover and take pictures not samples.
When and where to see at Bryce:
This species of paintbrush can be found on the rocky soil along the Peekaboo Trail, Queen's Garden Trail, and the Fairyland Trail.
Further Reading:
Cronquist, Holmgren, et. al. 1984. Intermountain Flora - Volume Four.
Spence, John and Buchanan, Hayle. 1993. "1993 Update, Checklist of the Vascular Plants of Bryce Canyon National Park, Utah." The Great Basin Naturalist, Volume 53, No. 3.
Welsh, Treshow, and Moore. 1965. Common Utah Plants. Brigham Young University. Provo, Utah.
Last updated: June 29, 2022