Superintendent's Compendium
UNITED STATES DEPARTMENT OF THE INTERIOR
NATIONAL PARK SERVICE
BRYCE CANYON NATIONAL PARK
CODE OF FEDERAL REGULATIONS
TITLE 36, CHAPTER 1.7 (b)
COMPENDIUM

Compendium of Designations, Closures, Permit Requirements and Other Restrictions imposed under the discretionary authority of the Superintendent; Title 36, Code of Federal Regulations, Chapter 1.
Authority
Under the authority of Title 54 USC Section 100751(a), and Title 36, Code of Federal Regulations, Chapter 1, Parts 1-7, a Superintendent's Orders Compendium is established for Bryce Canyon National Park. Regulations listed in this compendium are requirements in addition to those listed in the specific section found in Title 36 unless otherwise noted. The specific authority for this regulatory procedure is found in § 1.5, 1.6, and 1.7 of Title 36.

Written determinations, which explain the reasoning behind the Superintendent's use of discretionary authority, as required by Section 36 CFR 1.5 (c), appear in this document directly following the regulation cited.
2021 COMPENDIUM
36 CODE OF FEDERAL REGULATIONS
PART 1 – GENERAL PROVISIONS
Note: Maps showing designated areas mentioned throughout this document are maintained at Bryce Canyon National Park Headquarters.
SECTION 1.5 CLOSURES AND PUBLIC USE LIMITS
The following areas are closed or restricted as indicated below. Additional locations may be closed or restricted by the posting of appropriate signs.
Section 1. 5 (a)(1) Visiting hours, public use limits, closure
Personal motor vehicles may be restricted during periods of high visitation.
During periods of high visitation, typically holidays and weekends, parking lots and viewpoints fill quickly causing extreme congestion. This congestion impacts the Bryce Shuttle schedule and is a safety concern. Restricting personal motor vehicles at times of high visitation ensure that the shuttle schedule is followed and lessens the occurrence of motor vehicle and pedestrian accidents. This restriction does not apply to visitors with reservations at the Lodge or North and South Campgrounds during a Phase 5 vehicle restriction.
Parking at the Visitor Center is limited to 1 hour as posted by signs.
The Visitor Center has consistent traffic congestion. The 1 hour restriction helps alleviate this congestion.
The Maintenance area, Water Tank area, Mixing Circle area, Yovimpa Well House, Sewage Lagoons, East Creek water supply well area and roads leading there are closed to public use.
Operational areas such as the Maintenance area, Water Tank area, Yovimpa Well House and Mixing Circle area contain equipment, tools, and supplies and materials which should not be available to the public for security and safety reasons.
The sewage lagoons represent a potential hazard to the general public. Both the sewage lagoons and the water tanks may be considered a potential target for homeland security concerns. Closing these areas represents a minimal impact to the public while maintaining physical security of potential unsecured installations.
The NPS and concessions residential areas and inclusive roads are closed to the general public.
The residential areas are part of the designated development zones for the park. Employees residing in quarters are entitled to the same expectations of privacy and freedom from significant noise levels as other citizens of Utah. Closing these areas to public use ensures these expectations are met.
All roads within Bryce Canyon National Park are closed to all off highway vehicles (OHVs), all-terrain vehicles (ATVs), utility terrain vehicles (UTVs) and other motorized conveyances manufactured for recreational non-highway, off road, or all terrain travel. These vehicle are defined as Type I and Type II ATVs by the State of Utah 41-22-2. This definition includes any vehicle registered as a "street legal ATV/UTV" and/or eligible for a state ATV/UTV registration sticker. These vehicles will hereafter be referred to as OHVs.
OHVs pose a significant risk to park resources and values which cannot be appropriately mitigated, and which cannot be sustained without causing unacceptable impacts. The use of such vehicles is, therefore, not consistent with the protection of the park.
OHVs are designed, produced and marketed for the purpose of off-road travel, and they are uniquely capable of easily leaving paved and dirt road surfaces and traveling cross-country. No reasonable level of law enforcement presence would be sufficient to prevent OHV use off-road. Their capability to readily do so, the resource damage caused by off-road travel, and the lack of effective mitigation measures make their use unlawful in Bryce Canyon National Park.
Restoration of resources is difficult once damage has occurred. Prohibiting the use of OHVs is the most effective measure available in preventing resource damage resulting from off-road use.
OHVs, ATVs, and similar vehicles have long been prohibited within national parks and monuments by assimilation of state law. Maintaining that prohibition by application of 36 CFR 1.5 would not constitute an alteration of a public use pattern of the parks. Maintaining the current prohibition would not adversely affect park resources. It would not be controversial, since it would not be a change and because the public clearly accepts the current restriction. On the other hand, terminating the prohibition would be controversial, would constitute an alteration of a public use pattern, and would adversely affect park resources.
In accordance with the provisions of 36 CFR 1.5, and the requirements of the National Park Service Management Policies (2006) Section 1.5, the protection of environmental and scenic values, the protection of natural and cultural resources, and for the implementation of management responsibilities, it is necessary to continue the current prohibition against OHVs as defined above (Utah State Code 41-22-2).
Motorcycles (Utah State Code 41-22-2(11)) and tricycles designed, equipped, and licensed for highway use are not included in these definitions.
Under NPS management policies, (8.2.3.1), on-duty NPS employees may use OHVs or UTVs on a case by case basis as part of their official work duties when the use of an OHV or UTV with specific advantages is essential to promoting efficiency for a project, promoting employee safety, and supporting park wide sustainability goals. Under this allowance, staff will predominately use administrative roads within Bryce Canyon that are closed to the public and avoid public roads within Bryce Canyon whenever possible. Only street legal OHVs may be used by park staff and all requirements (licensed driver, safety belts, required equipment) must be met.
Areas beyond barriers, fences, railings, meadows and closure signs are closed to the public.
It has been determined that it is necessary to close the areas beyond certain barriers and fences to the public. Barriers, fences, railings, and signs have been erected at various viewpoints, along certain trails, and at other locations, in the interest of public safety and resource protection. Visitor entry into these areas represents dangerous and unsafe conditions and/or can cause damage to the fragile "hoodoo" formations in the park. Each year individuals who go beyond the barriers, fences, railings and posted signs fall or become stranded. Many are injured and some must be rescued by NPS personnel. Footprints in some of these areas remain for months and some cause or contribute to permanent "social trails". Foot traffic can cause rock falls or soil slides contributing to the early deterioration of the rock formations. These consequences make this closure necessary.
The following meadows are closed to all visitor activity: Meadow at Dave's Hollow between the Overflow lot, Hwy63, Lodge Loop Rd, and the Shared Use Path and the East Meadow.
All privately owned vehicles operated or parked by government or concession employees within Bryce Canyon National Park will be registered with the Fee Office. All registered vehicles will display a registration decal on the driver's side lower left corner of the windshield. The decal must be visible from the exterior.
Employees operating privately owned vehicles within the park are permitted to enter this Federal fee area without charge. Vehicles with a Bryce Canyon NP windshield decal are permitted to use the fast-track gated entrance lane, provided that they follow proper procedures for proceeding through after acknowledgement from entrance station staff.
All privately owned vehicles operated by government or concession employees within Bryce Canyon National Park will be parked in areas designated for employee parking. (The employees will park in the main lodge parking area between the hours of 6:00 p.m. and 10:00 a.m.) A map of designated areas is attached. Employees should use the gravel lot above the Knotty Pine dorm at all other times.
Traffic and parking congestion, especially during the busy summer months when the lodge is in full operation, produces a negative visitor experience when parking is not available for basic services. By parking employee vehicles in employee parking only, the negative impacts can be greatly reduced.
The Bryce Point Road east of the Inspiration Point Intersection, including the Paria View Road, is closed to recreational vehicles (RVs) and vehicles with trailers over 20 feet in length, with the exception of buses.
Due to the nature of the parking areas, there is inadequate room to turn a motor vehicle around that is longer than 20 feet in total length. Allowing longer vehicles in those parking areas leads to an increased number of motor vehicle collisions.
At the Visitor Center, the parking spaces adjacent to the building (West side) in the Visitor Center Administrative parking lot will be reserved for employee personal and government vehicles designated by divisions.
Parking employee and government vehicles in administrative parking only reduces negative impacts of employee use in public parking areas.
All times of year, the Bryce Point Road east of the Inspiration Point Intersection, including the Paria View Road, is closed to recreational vehicles (RVs) and vehicles with trailers over 20 feet in length.
Due to the nature of the parking areas, there is inadequate room to turn a motor vehicle around that is longer than 20 feet in total length. Allowing longer vehicles in those parking areas leads to an increased number of motor vehicle collisions.
During Shuttle Operating Hours, all vehicles with trailers and all motorhomes over 20 feet are not permitted to park at the following locations:
Visitor Center
Sunrise Point/General Store
Sunset Point
Inspiration Point
Bryce Point
Bryce Canyon Lodge
This regulation applies to all Commercial Use Authorization (CUA) permit holders.
Those traveling in motor coach tour buses with a seating capacity of 26+ or more passengers are excepted from this regulation. Motor coach tour buses must park in spots designated for buses.
Due to the nature of the parking areas, there is inadequate room due to overcrowding and conflicts related to limited RV/trailer/bus parking. When posted, vehicles that are longer than 20 feet in total length will be directed to park at their overnight accommodations (if registered as guests at the campgrounds or Lodge within the park) or at overflow parking near the entrance of North Campground or at the Bryce Canyon Shuttle staging at Bryce Canyon City. Allowing longer vehicles in those parking areas would lead to an increased number of motor vehicle collisions.
Parking and stopping along park roads is prohibited except at established parking areas or pull-offs. Parking at Shuttle Bus stops is prohibited.
Stopping, standing, or parking outside of established parking areas would lead to resource damage along the road shoulder. Many areas are muddy along the roadside and vehicles become stuck, requiring a tow truck followed by resource rehabilitation. Additionally, when not in an established parking area or pull off, vehicles tend to remain partially in the roadway thereby causing a traffic obstruction. Parking or blocking Shuttle bus stops prevents Shuttles from picking up and dropping off passengers resulting in additional congestion and delays.
All vehicles, including commercial tours, private tour companies, RVs and passenger vehicles, with the exception of marked emergency vehicles, are required to turn off their engines when parked.
The idling of any vehicle at viewpoints and other parking areas contributes to noise pollution that is inconsistent with the soundscape in the National Park, and vehicle emissions impact Bryce Canyon's pristine air quality.
Low speed vehicles operated by the concessions are limited to the areas of paved roadway, across the Shared-use Path from the lodge to the cabins and sidewalks at the Bryce Canyon Lodge, Concession Housing area, Mixing Circle Area, and General Store, including the roads leading thereto. All vehicles and operators will comply with State law for low speed vehicles (41-6a-1508).
The use of low speed vehicles is the most efficient manner to conduct business and comply with carbon footprint restrictions within the National Park. Operation on these sidewalks and roads produces little impact to visitor traffic as these are low speed limit areas. Operation outside of these areas is prohibited due to the faster nature of traffic that could lead to increased motor vehicle collisions.
The sanitary dump station is closed to commercial buses.
Use of the sanitary dump station by commercial buses is incompatible with the disposal equipment available and creates sewage spills.
The following areas are open to wheelchairs, motorized wheelchairs, and electric carts similar to wheelchairs for mobility purposes:
Shared Use Path.
Campgrounds, parking areas, and access sidewalks to public access buildings.
Access trails from Sunset Campground to Sunset Point and from North Campground to the Visitor Center, including crossing park roads.
Fairyland Point, Sunset Point, Lower Inspiration Point, Paria Point, and every paved viewpoint south of the Rainbow Gate.
The Rim Trail between Sunset Point and Sunrise Point Parking area, taking the lower trail that does not go uphill to Sunrise Point. Access trails from the Lodge to the Rim Trail between Sunset and Sunrise Points.
These areas are closed to all vehicles except those identified above for mobility purposes due to the need to protect the park's natural, scenic, and aesthetic values, while contributing to minimal disturbance to wildlife or park resources. Additionally, trails below the rim are steep natural surfaces with frequent trail debris. Trail materials are loose and susceptible to slipping.
All areas below the Bryce Canyon Rim are closed to downhill skiing, snowboarding, sledding or sliding devices. Cross country skiing is permitted on the Rim Trail, Under the Rim trail and Riggs Spring Loop trail.
Downhill skiing, snowboarding, sledding and using other sliding devices pose a risk to park resources, as well as significant potential hazards to visitors.
The snowpack is quite variable and often times very thin. The carving, turning nature of skiing, snowboarding and similar downhill activities can cause significant damage to geologic formation accelerating erosion of protected resources.
Traditional geocaching within Bryce Canyon National Park is prohibited.
Due to concerns of unchecked development of social trails in areas of archeological, scenic and biological significance, and concerns of geocache placement in unsafe areas, traditional geocaches are prohibited. Geocaching also violates the following regulations: 36 CFR Section 2.22(a) (2), 2.1(a) (I), 2.31(a) (3
Launching, landing or operating an unmanned aircraft from or over lands and waters administered by the National Park Service within the boundaries of Bryce Canyon National Park is prohibited except as approved in writing by the Regional Director. This prohibition includes pilots with FAA licenses.
Definition: The term "unmanned aircraft" means a device that is used or intended to be used for flight in the air without the possibility of direct human intervention from within or on the device, and the associated operational elements and components that are required for the pilot or system operator in command to operate or control the device (such as cameras, sensors, communication links). The term includes all types of devices that meet this definition (e.g., model airplanes, quadcopters, and drones) that are used for any purpose including for recreation or commerce.
Use of "unmanned aircraft" within Bryce Canyon is not a compatible use with the purpose of wilderness management, preservation of natural soundscape, natural wildlife including endangered species, conflicts with motor vehicle traffic, and intrusion on other visitors' enjoyment of the park. Less restrictive use of "unmanned aircraft" will not provide the protection to wildlife such as the Utah prairie dog and peregrine falcons or the visitor experience of solitude and natural quiet in Bryce Canyon's wilderness.
Attaching or suspending any item from trees is prohibited, as is attaching any item to trees or vegetation with nails, wire or chains.
The dominant tree species in Bryce Canyon campgrounds is the ponderosa pine (Pinus ponderosa). Seasonal weather determines forest health. Because trees in campgrounds are under additional stress, attaching or suspending any item from the trees is prohibited. No matter what attachment method is used, including hammock webbing, nails, wire or chains. Items that may not be attached or suspended include, but are not limited to hammocks, clotheslines, slacklines, candles or lanterns.
Section 1. 5 (a)(2) Restrictions
As stated in E.O. 13991, it is the policy of the Administration to halt the spread of coronavirus disease 2019 (COVID–19) by relying on the best available data and science-based public health measures. Such measures include wearing masks when around others, physical distancing, and other related precautions recommended by the Centers for Disease Control and Prevention (CDC).

All individuals over the age of two who are not yet fully vaccinated must wear masks, except when actively eating or drinking, in the following locations:

All common areas and shared workspaces in buildings owned, rented or leased by the National Park Service, including, but not limited to, park visitor centers, administrative offices, lodges, gift shops and restaurants.

The following outdoor areas, when others are present, where the superintendent has determined that physical distancing (staying at least six feet apart) cannot reasonably be maintained:
Bryce Canyon Visitor Center Plaza

Outdoor Theater

All park designated viewpoints

Congested areas on trails such as waysides, areas where interpretive programs meet, areas where large tour groups congregate or portions of trails where social distancing cannot be maintained

Park restrooms

Park Shuttle buses and shuttle bus stops
Masks must cover the nose and mouth and fit snugly around the nose and chin with no large gaps around the sides of the face. Masks not designed to be protective, masks with ventilation valves, and face shields do not meet the requirement.

Regardless of vaccination status, all individuals must comply with all orders regarding masks issued by the Centers for Disease Control and PreventionCDC prevention measures continue to apply to all travelers on public transit, regardless of vaccination status. Masks remain required on all forms of public transit that operate within parks, including busses, trains, and boats/ferries, and in transportation hubs
SECTION 1.6 PERMITS
In accordance with 36 CFR 1.6(f), the following activities require Permits or are listed as a specific, approved scope of work:
Operating a Power Saw in developed area (Residents of government quarters may operate power saws in the immediate vicinity of their quarters.)
Operating any type of motor in non-developed areas.
Operation of a public address system
Business operations
Commercial Filming (still, video, movie)
Commercial Guiding
Camping (overnight use of Backcountry and Group campsites)
Collecting (research specimens)
Display of Commercial notices or advertisements
Explosives
Using, possessing, storing, transporting explosives, blasting agents or explosive materials. Transportation of these materials on highway 12 will be under the conditions established by the State of Utah.
Livestock use and Agriculture
Memorialization
Noncommercial Soliciting
Public Assemblies and Meetings
Sale or Distribution of Printed Matter
Scattering of Human ashes from cremation
Special Events
Weddings
The Superintendent may suspend services or remove disorderly persons or groups or permit violators from the park area.
These permits are those required by 36 CFR Parts 1 through 7. Permits required by other agencies are listed for informational purposes only.
Commercial Filming
The following types of filming activities may occur in areas open to the public without a permit and without advance notice to the NPS:
Outdoor filming activities [outside of areas managed as wilderness] involving five persons or less and equipment that will be carried at all times, except for small tripods used to hold cameras.
The organizer of any other type of filming activity must provide written notice to the Superintendent at least 10 days prior to the start of the proposed activity. Based upon the information provided, the Superintendent may require the organizer to apply for and obtain a permit if necessary to:
Maintain public health and safety;
Protect environmental or scenic values;
Protect natural or cultural resources;
Allow for equitable allocation and use of facilities; or
Avoid conflict among visitor use activities.
If the Superintendent determines that the terms and conditions of a permit could not mitigate the concerns identified above in an acceptable manner, the Superintendent may deny a filming request without issuing a permit. The Superintendent will provide the basis for denial in writing upon request.

The NPS will consider requests and process permit applications in a timely manner. Processing times will vary depending on the complexity of the proposed activity. If the organizer provides the required 10 day advance notice to the NPS and has not received a written response from the NPS that a permit is required prior to the first day of production, the proposed filming activities may occur without a permit.

The following are prohibited:
Engaging in a filming activity without providing advance notice to the Superintendent when required.
Engaging in a filming activity without a permit if [the activity takes place in areas managed as wilderness or if] the Superintendent has notified the organizer in writing that a permit is required.
Violating a term and condition of a permit issued under this action.
Violating a term or condition of a permit issued under to this action may also result in the suspension and revocation of the permit by the Superintendent.
SECTION 2.1 PRESERVATION OF NATURAL, CULTURAL AND ARCHEOLOGICAL RESOURCES
Geologic features including hoodoos, arches, bridges and cliff faces are closed to walking, climbing, ascending, descending, rappelling or traversing.
The natural features the park was established to protect were created through a process of erosion over hundreds of thousands of years. Climbing on these fragile features would substantially accelerate the erosion process thereby causing failure and destruction of such features. Additionally, the fragile nature of the features would pose an increased risk of falling rocks that could seriously injure the public.
Hiking and pedestrian use is restricted to designated trails and walkways where trails exist. Leaving a trail or walkway to access a view off trail, to shortcut between portions of the same trail or walkway, or to shortcut to an adjacent trail or walkway in violation of designated restrictions is prohibited.
Due to concerns of unchecked development of social trails in areas of archeological, scenic and biological significance, hiking or leaving established trails is prohibited. Hiking above the rim cross-country where no trails exist is allowed.
SECTION 2.2 WILDLIFE PROTECTION
Wildlife legally taken and transported in accordance with State law may be transported through the Park on Utah Highway 12.
Highway 12 is a thoroughfare for local residents. It would be unreasonable to expect hunters to transport legally taken wildlife around the park.
All areas within the Park boundary are closed to the viewing of wildlife with an artificial light.
The viewing of wildlife at night by spotlight is inconsistent with state hunting law and is prohibited at Bryce Canyon National Park.
SECTION 2.10 CAMPING AND FOOD STORAGE
Camping within all areas of the park is limited to a total of 30 days per calendar year per individual or family group. Camping is limited to a total of 14 days from Memorial Day through Labor Day. Individuals within the same camping group cannot make separate reservations under different names to avoid the limit
Bryce Canyon experiences a significant influx of visitors from March through November. Without restrictions, NPS sites would experience inappropriate long term residents.
Front Country Camping
Sunset Campground
This campground is by reservation only and must be reserved through Recreation.gov. The exception is ADA sites 223 and 224. Those sites are reserved by calling the campground manager or onsite with the campground host.
North Campground
First come, first serve only.

Campsite registration must be completed within one hour of campsite occupancy.

Transferring of campsites for profit is not permitted.

Campsite registration must be completed within one hour of campsite occupancy.

Failure to register within one hour for a campsite leads to failure to pay.

Campers can register for their campsite(s) only. The practice of saving unpaid for campsites for other party members is prohibited. Checkout time is 11:30am

Campsites must be paid for within one hour of registration. 'Saving' a campsite without paying violates that regulation. If a site is paid for, it may remain unoccupied for 24 hours before being considered abandoned.
The following limits apply to each campsite: Six persons and a maximum of three tents. One vehicle, one RV/Trailer or two motorcycles are allowed per site in Sunset Campground with overflow parking available at the entrance. Two vehicles, or four motorcycles, or one RV/trailer with one tow vehicle are allowed in the North Campground (This does not apply to the group campsite).
More than six adults would overload the capacity of the campsites and could cause resource damage. Vehicle restrictions are in place due to the size of the paved parking area at each site.
Moving or altering campsite facilities, i.e. picnic tables, fire grates, etc. is prohibited.
Each site has limited equipment. Moving equipment to different sites would impact the ability of the park to provide basic camping equipment to the public. Placement of tents must be on pads where provided. Any additional tents must be placed in the impacted/developed area of the campsite or no further than 20 feet from the fire ring.
Operation of generators is permitted from 8:00 a.m. to 10:00 a.m. and 6:00 p.m. to 8:00 p.m. in all loops in North Campground and Sunset Campground. Idling of vehicles to produce power outside these hours is prohibited.
Generators and idling vehicles present an unreasonable noise complaint outside of established hours and within loops designated for no RV's.
Tents must be erected within twenty feet of a site's campfire rings.
Proximity to the fire rings helps to prevent excessive resource damage.
Fixed Lines
The use of fixed lines (any line made from any material which is stretched between two points) anywhere in the park is prohibited except for tie-downs used in conjunction with tarps or tents affixed to ground stakes. This includes, but is not limited to, clothes lines, slack lines, dog runs, hammocks, and prohibits attachment to vegetation, natural features, or government property. Justification: These conditions are necessary to reduce the impact to natural resources, prevent safety hazards and promote a satisfactory visitor experience.
The assembly and use of outdoor portable showers, changing rooms or portable toilets is prohibited. Washing of dishes is allowed only in the service sink adjoining the restrooms.
Use of showers invites the distribution of soap, shampoo, and conditioner onto the ground allowing for the contamination of groundwater. Additionally, it may produce nudity that is inconsistent with a family campground. Shower facilities are provided at the General Store and restroom facilities are available in each loop.
North Campground "D" loop and Sunset Campground "B" and "C" loops are restricted to vehicles under 20 feet in length.
The narrow road and smaller campsite sizes cannot accommodate larger vehicles.
During the winter months when other loops are closed, open loops will not have size restrictions.
Cleaning and heating one restroom during winter months is all that is required to accommodate the limited visitor traffic.
Group camping is permitted only at Sunset Campground in the group campsite. Limits for the group site are 30 persons and 8 vehicles (2 motorcycles equal 1 passenger vehicle). The group site is available through advance reservations. Vacancies may be filled on a first-come first-served basis if no reservation has been made.

There is a recreational fee for camping, and it is permitted only in designated areas. Camping in areas other than designated sites is prohibited.
Back Country Camping
A Back Country Permit is required for all overnight use in the Back Country and is limited to the following established sites:
Yellow Creek

Yellow Creek Group Site

Right Fork Yellow Creek

Right Fork Swamp Canyon

Swamp Canyon

Natural Bridge

Iron Spring

Corral Hollow

Yovimpa Pass

Riggs Springs

Riggs Springs Group Site
Camping is restricted to designated sites; campers must place their tents in one of the three designated areas at each site listed on their Back Country Use Permit.

Each campsite allows for a maximum of three permittees and/or a total of six persons. A six-person limit applies to each campsite, with the exception of the group sites, for which there is a 15-person limit.
Restriction to designated sites with size restrictions prevents excessive resource damage.
Food Storage
Within all campsites, picnic areas and parking lots, all food products and garbage must be stored inside a vehicle or a secure lockable hard sided container. This does not apply to food that is being transported, consumed, or prepared for consumption. For the purpose of the following food storage restrictions, "food items" shall be defined as food, drinks, toiletries, cosmetics, pet food and bowls, and odoriferous attractants. Garbage (including empty cans, food wrappers, etc.) must be stored or disposed of consistent with these regulations. Coolers, dirty stoves, grills, non-disposable tableware and cookware must be washed, or stored in the same manner as food.

Food items and trash left unsecured are at high risk of becoming subject to opportunistic feeding by the local animal population and may also attract nuisance insects. This opportunistic feeding may pose health concerns to the animals over time, has proven to create an aggressive animal population and has resulted in avoidable visitor injury and property damage.

The primary purpose of these regulations is to maintain public health and safety, and to avoid conflict between visitor use activities and natural resources.
SECTION 2.10 AUDIO DISTURBANCE
Operating Motorized equipment or machinery (including generators) that exceeds a noise level of 60 decibels measures on the A-weighted scale at 50 feet, or, if below that level, nevertheless makes noise that is unreasonable is prohibited.
SECTION 2.11 PICNICKING
The following areas are closed to picnicking: North Campground, Sunset Campground, the Visitor Center Building and adjacent parking area.
The campground sites are reserved for visitors who purchase a campsite to occupy overnight. Picnicking in the campgrounds without purchasing a campsite bypasses federal fee regulations. Food inside the visitor center building would attract rodents and other pests that are inconsistent with providing a clean and safe atmosphere to the public. Due to the congestion of people and traffic in the visitor center parking area, it would be dangerous to have a picnic in that area without established tables or a specific location for such activities.
SECTION 2.13 FIRES
Lighting or maintaining a fire is prohibited in all areas except:
Designated campgrounds and picnic areas in government provided grills or fireplaces or personally provided grills. Campfires are restricted to established campfire grates, or personally provided grills.

Fires outside of established grates or personally provided grills could present a fire danger, and could fire scar the resources of the campsite.
Designated backcountry campsites in conjunction with authorized overnight camping permit utilizing camp stoves only. No open fires are permitted in the backcountry.
Open fires could present a fire danger, and could fire scar the resources of the campsite.
When conditions of high wildfire dangers are reached within the park (e.g. staffing class IV and higher as determined by prescriptions in the Fire Management Plan and the associated Step-Up-Plan for wildfire suppression), fires and smoking may be restricted or prohibited. While the public will be notified when such restrictions exist, this may occur without prior public notice.
The Bryce Canyon ecosystem can experience extreme fire dangers and require aggressive fire management. These regulations help control human-caused fires. Fluctuating conditions can create rapid changes in fire danger. These rapid fluctuations may preclude advance notice to the public of fire prohibition.
SECTION 2.15 PETS
Pets (as defined by 36 CFR 1.4(a) to be a dog, cat or other animal that has been domesticated) are prohibited on all areas of the park that are not paved except in picnic areas and campsites where they may be off the pavement within 30 feet of a paved road. Pets are allowed on paved surfaces at viewpoints, the Shared-use Path, and the Rim Trail between Sunrise and Sunset Points only. At no point are pets allowed below the canyon rim or in proposed Wilderness.
Permitting pets outside of paved areas could lead to the increase in predator scent within the park, that could detract from the general visitor experience by deterring wildlife to gather for viewing in visitor areas. Pets also transmit disease to wildlife, impact wildlife behavior, and if off leash may injure or kill wildlife.
This prohibition does not include Service Animals. Service Animal, as defined by the Americans with Disabilities Act, is a dog or miniature horse that has been individually trained to do work or perform tasks for an individual with a disability. The tasks performed must be directly related to the person's disability.

Pets are prohibited on the park transportation shuttle buses.
Pets allowed on public transportation creates a sanitation problem, a safety hazard and general visitor inconvenience. Service animals are allowed.
All visitors will be responsible for disposing of pet excrement by placing it in a closed disposable bag in a garbage container.
Since there are many areas where visitors are allowed to take their leashed pets, pet owners are responsible for ensuring that pet excrement does not pose a sanitation problem or inconvenience for other visitors or park management.
Employees with pets will comply with the park housing policy section regarding pets.
Employees residing in government quarters are entitled to maintain their private lives similar to other citizens, providing their actions do not prevent the preservation or protection of park resources.

Pets must be leashed at all times (on no more than a 6 foot leash, except under conditions allowed in the employee handbook), and cannot be left unattended (either inside or outside a vehicle).
All park housing policy regulations are hereby adopted.
SECTION 2.16 HORSES AND PACK ANIMALS
Owners and/or riders of private horses/mules in the park must comply with the terms and conditions of the Private Horse and Mule Letter available on the park's web page.

The use of horses mules permitted only in the following areas:
On the established trail from the Mixing Circle to Sunrise Point, from Sunrise Point down the horse trail to the Peek-a-Boo Loop trail, on the established Tropic Trail from the Park boundary to the Peek-a-boo Loop trail, on the Peek-a-Boo loop trail, and on established historic cattle drive routes in Henderson, Tropic, and Sheep Creek Canyons during the spring and fall to move cattle across park lands. The use of stock is to be limited to day use only and to move cattle (Section 2.60). Temporary limitations of horse use may occur upon Superintendent's discretion.
Private horses/mules and pack animals shall only be fed feed pellets or hay which must be certified as weed free. In order to be allowed access to the park, private horses/mules and pack animal must consume only feed that is certified as weed free for at least 48 hours prior to entering the park. All feeding of stock in the park is to be done at the Mixing Circle.

The following are prohibited:
Riding or tying horses or mules in any developed areas such as the Visitor Center, High Plateaus Institute, campgrounds or picnic areas.

Tying horses or mules in a manner that damages trees or vegetation. Historic use of horses along specific Bryce Canyon trails has occurred for many years with minimal resource impact. Restriction to these areas assures compatibility between horse use and hikers. Restrictions will assure visitor safety and resource protection and prevent the spread of exotic plants.
Llamas and goats are prohibited in Bryce Canyon National Park.
SECTION 2.20 SKATING, SKATEBOARDS, AND SIMILAR DEVICES
The use of roller skates, inline skates, longboards and two wheeled, non-motorized scooters is permitted on the Shared Use Path and employee housing areas only.
The Shared Use Path is closed to motor vehicles and employee housing areas have a speed limit low enough to minimize conflicts between these devices and motor vehicles.
SECTION 2.21 SMOKING AND ELECTRONIC NICOTINE DELIVERY SYSTEMS
Smoking, including e-cigarettes, is prohibited within fifty (50) feet of automotive refueling pumps and is prohibited in all public buildings and at least 25 feet from a building opening (including entryways and windows).
State law prohibits smoking and ENDS use ("vaping") in all buildings. DO-50 prohibits smoking within 25 feet of an entrance to a building.
SECTION 2.22 PROPERTY
Visitors with a valid backcountry permit may leave their vehicles unattended at the following locations for longer than 24 hours:
Rainbow Point/Yovimpa Point parking area

Ponderosa Parking area

Whiteman Bench Picnic Area

Sheep Creek and Swamp Canyon Parking Area

Bryce Point Parking Area
Other personal property left unattended or personal property left at other locations for more than 24 hours without written permission of the Superintendent is prohibited and may be impounded.
Backcountry trips require extended overnight hikes away from various locations. Support of this use requires relaxation of the restriction, thus allowing property to be left unattended for longer than 24 hours. Permittees must leave notification on their dashboard (provided by the NPS when permits are given).
SECTION 2.35 ALCOHOLIC BEVERAGES AND CONTROLLED SUBSTANCES
Consumption of alcoholic beverages is prohibited within the Visitor Center, the Visitor Center parking area, within Headquarters, and the employee parking area, without prior approval by the Superintendent.
The presence of alcoholic beverages in a visitor setting is inconsistent with a family atmosphere. Since picnicking is not permitted at these areas, these restrictions on the consumption of alcohol are not unreasonable.
SECTION 2.38 EXPLOSIVES
The use and/or possession of fireworks or pyrotechnics of any kind is prohibited.
To ensure visitor safety and reduce fire danger, the use or possession of pyrotechnics of any kind is prohibited.
SECTION 2.50 SPECIAL EVENTS
Permits for public assemblies and for distribution of printed matter will be issued pursuant to standards established in Director's Order / Reference Manual 53 (Special Park Use Guidelines).

Special events shall conform to the guidelines established for Public Assemblies and Distribution of Printed Matter (see below) except:
Request for special events must be received four weeks in advance. Large events which impact park staff will be limited to one per month and must be received six months in advance.
The amount of time needed to process each permit can range from a few days to a few months depending on park priorities. Please be as detailed as possible on the permit application to speed the process along. Some events will require logistical planning meetings before the permit can be approved. In these cases, our office will contact the applicant to set up the meeting(s).

Weddings are permitted at Sunset Point (see attached map) and other areas as deemed acceptable by the Chief Ranger's Office.
SECTION 2.51 PUBLIC ASSEMBLIES, MEETINGS AN FIRST AMENDMENT ACTIVITES
Permits for public assemblies and for distribution of printed matter will be issued pursuant to standards established in Director's Order / Reference Manual 53 (Special Park Use Guidelines).

Permitted assemblies, distribution of printed matter and First Amendment activities are allowed in the designated public assembly area in the Visitor Center parking lot. A photo and definition of the area is included at the end of this document.
Congested parking areas, limited overlooks, and narrow trails with dangerous exposures require that special events, public assemblies, meetings, and sale or distribution of printed matter occur at the visitor center parking area that offers the appropriate facilities for these activities.

The permit holder is responsible for cleaning the public assembly event area upon the completion of the event.
SECTION 2.60 LIVESTOCK USE AGRICULTURE
Cattle may be moved across park lands with prior notification to the Chief Ranger. The use of stock is to be limited to day use only and to move the cattle.
SECTION 2.62 MEMORIALIZATION
The scattering of human ashes from cremation is subject to the following:
A special use permit is required, and must include a copy of the Certificate of Cremated Human Remains with the application.
Piracy Point, which can be accessed via Fairview Point parking area, is the only designated scattering site. There will be no scattering of human ashes in the main amphitheater.

The scattering of human ashes by air or water is prohibited.

No teeth, bone fragments, nor remnants recognizable as human remains may be scattered.

No more than 30 participants may attend the ceremony.

Prerecorded music or audio amplifying devices are prohibited.

Ceremonies shall not interfere with normal visitor traffic.

No monuments may be erected, and no items other than human ashes may be left behind.
The scattering of human remains is inconsistent with the high levels of visitation within the amphitheater area. The consistency of human remains in ash form is so light that a gentle upslope breeze will carry the ashes back up over the edge and would impact other visitors. The removal of teeth, bone, and other recognizable human remains will prevent future concerns with NAGPRA or future archeological studies. Designating a single location will aid in future tracking of possible grave sites.
SECTION 4.10 TRAVEL ON PARK ROADS AND DESIGNATED ROUTES
The following routes are designated for non-governmental motor vehicles use: Hwy 63 and Hwy 12.
Driving non-governmental vehicles into and out of the park on other roads would allow visitors to circumvent the federal fee areas. Additionally, driving off road would create resource damage.
SECTION 4.12 TRAFFIC CONTROL DEVICE
Parking spots designated as "Permit Parking Only" will be intended for large capacity vehicles where the vehicle is too long in length to occupy a normal parking spot.
These types of vehicles allow more visitors access to viewpoints while taking up less space than passenger vehicles. Permits will be issued by the front entrance station to vehicles meeting this requirement at no additional cost. These vehicles will display a parking permit in their front window or will be in violation of this section. Permits will be marked with date of use and are nontransferable. The intent of this requirement is to ensure vehicles meeting these requirements have a designated place to park in otherwise congested parking lots.
SECTION 4.21 SPEED LIMITS
The speed limit is 30 mph on park roads except as posted by signs on the main park road (Hwy 63):
Park residential areas: 15 mph as posted by signs.

Entrance Station Plaza: 20 mph as posted by signs.

Bryce Point Road: 35 mph as posted by signs.

Fairyland Road: 25 mph as posted by signs.

Lodge Loop Road: 25 mph as posted by signs.

Mixing Circle Road: 10 mph as posted by signs.

Utah Highway 12: 50/40 mph as posted by signs.

Campground areas: 10 mph as posted by signs.
Speed limits have been determined in consultation with the Federal Highways Administration, Utah Department of Transportation, and the Utah Highway Patrol.
SECTION 4.30 BICYCLES
The use of bicycles or E-bikes is prohibited except on park roads, the Shared-use Path and parking areas with paved surfaces.
The use of bicycles on non-paved trails would cause undue resource damage and accelerate the erosion process within the park especially due to the nature of the sharp turns and narrow tires. Additionally, due to the congestion of foot traffic on trails, it would cause an unsafe situation between low speed pedestrian traffic and moderate to high speed bicycle traffic. National Park Service regulations require promulgation of a new special regulation to designate new routes for bicycle use off park roads and outside developed areas. This rule was effective June 1, 2015.

Groups of cyclists using park roads must break into groups of 6 riders or less with groups separated by one quarter mile. Cyclists must ride single file on all park roadways. Justification: Shuttle buses with trailers have limited visibility which prevents passing moving cyclists in a safe manner. Large bicycle groups prevent vehicles from passing them in a safe manner on the narrow park roads.
The term "e-bike" means a two- or three-wheeled cycle with fully operable pedals and an electric motor of less than 750 watts (1 h.p.).
E-bikes are allowed in Bryce Canyon National Park where traditional bicycles are allowed. E-bikes are prohibited where traditional bicycles are prohibited. Except where use of motor vehicles by the public is allowed, using the electric motor to move an e-bike without pedaling is prohibited.

A person operating an e-bike is subject to the following sections of 36 CFR part 4 that apply to the use of traditional bicycles: sections 4.12, 4.13, 4.21, 4.22, 4.23 and 4.30(i).

Except as specified in this Compendium, the use of an e-bike within Bryce Canyon National Park is governed by State Law, which is adopted and made a part of this Compendium. Any violation of State law adopted by this paragraph is prohibited.

4.3 (i)(1) The Shared Used Path is the only trail within Bryce Canyon National Park that is open to bicycles (devices that are propelled solely by human power). The use of a pedal-assist e-bike is prohibited within the park except on park roads open to the public and the following paved or hardened trails located primarily in front country areas where traditional bicycles are allowed: Shared Use Path.
Class of e-bikes allowed on Shared-Use Path:
Class 1 e-bike: are electric bicycles equipped with a motor that provides assistance only when the rider is pedaling, and that ceases to provide assistance when the bicycle reaches the speed of 20 miles per hour.

Class II e-bikes without throttle assist. Class II e-bikes are electric bicycles equipped with a motor that provides assistance only when the rider is pedaling, and that ceases to provide assistance when the bicycle reaches the speed of 28 miles per hour.
Justification:
The Shared Use Path is the only trail within Bryce that can accommodate bicycles and e-bikes without suffering resource damage.

Class III e-bikes are only authorized to be used where public motor vehicles can go. Class III e-bikes are prohibited because the speed of 28 MPH is too fast for the congested Shared Use Path.
SECTION 7.94 BRYCE CANYON NATIONAL PARK SPECIAL REGULATIONS – SHARED-USE PATH
The Shared Use Path may be used for non-motorized methods of travel.
The Shared use Path is a paved multi-use visitor path in Bryce Canyon National Park. The path is approximately 6.2 miles long and is open to several uses, including running, walking, roller or in-line skating, non-motorized scooters and cross-country skiing and bicycling, including E-bikes. Leashed pets are also allowed on the Shared Use Path.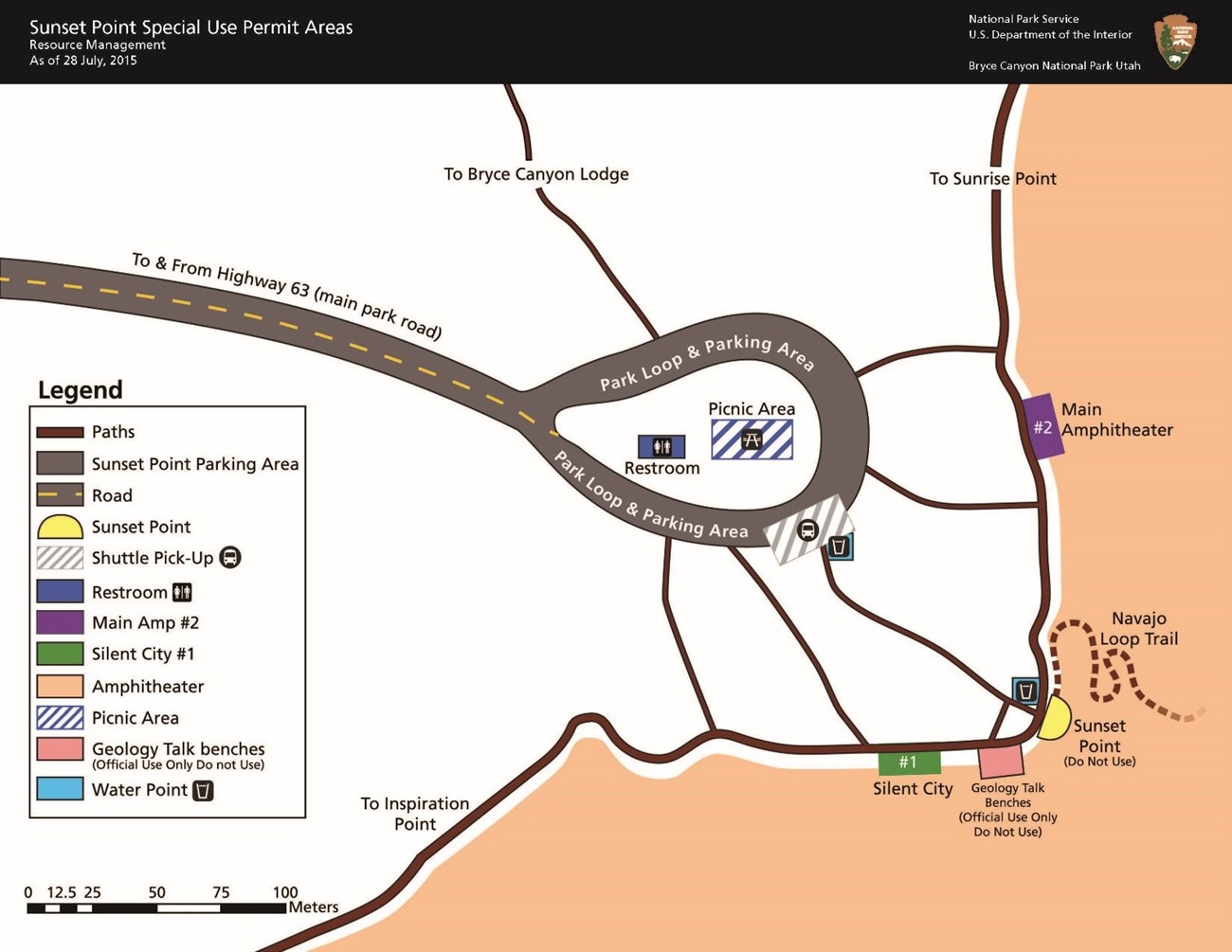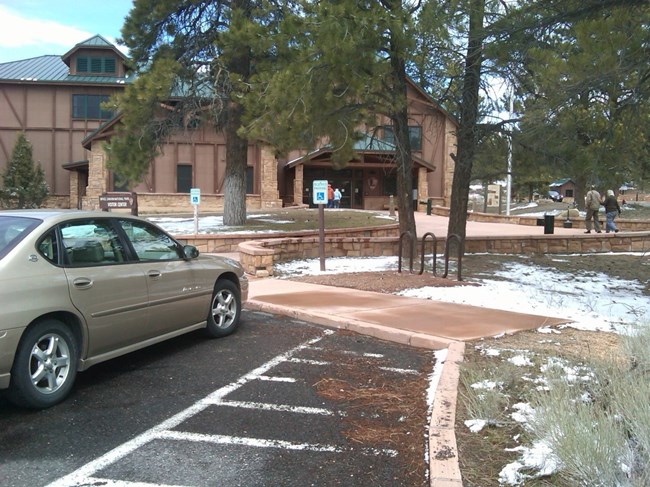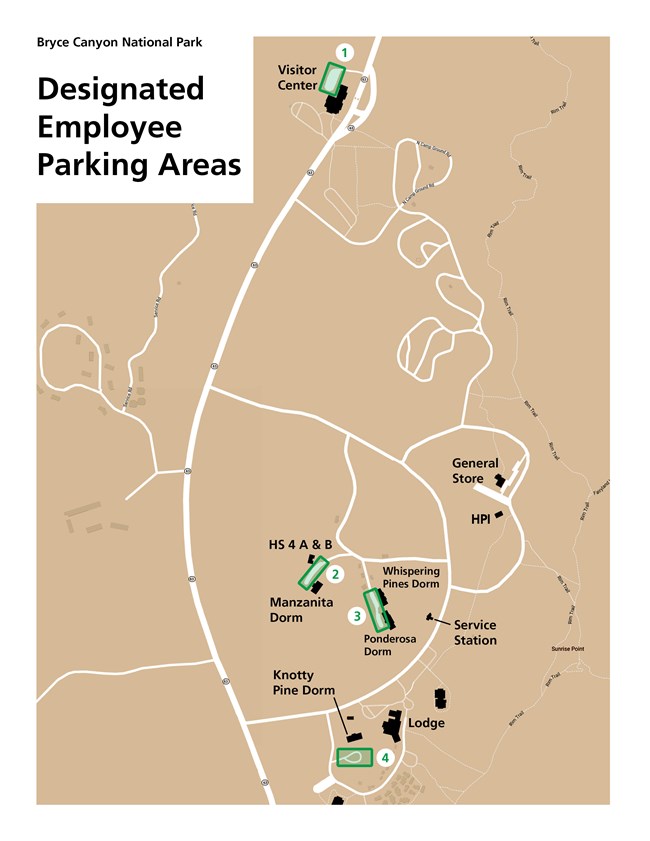 Last updated: January 12, 2023