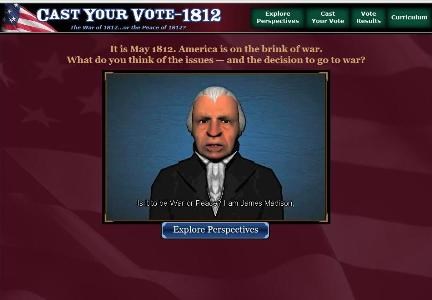 To commemorate the Bicentennial of the War of 1812 and give people nationwide a fun and engaging way to experience it from their homes, the National Park Service has unveiled its free, new interactive on-line game, "Cast Your Vote!" "Cast Your Vote!" gives people across the US the opportunity to act as Congressmen or women, deciding whether or not to declare war on Great Britain. Sometimes referred to as the "Second War for American Independence," the War of 1812 was fought on the Atlantic Ocean, Gulf of Mexico, the entire East Coast through Louisiana, and the Great Lakes region, as well as Canada, involving US and British citizens and Native Americans. After hearing multiple points of view, visitors can imagine themselves as Congressmen in 1812 and literally cast their vote for or against ongoing war. The goal is to get people - children, families, and adults - from all 50 states to visit "Cast Your Vote!" to learn about the War of 1812 and cast their votes.
"Many people don't know that the War of 1812 was the most narrowly declared war in our nation's history," said Cassius Cash, Superintendent of Boston National Historical Park. "This online resource will help people understand why. We hope this new, free to use, online game will get everyone excited and involved in the Bicentennial of the War of 1812, the last time a foreign army invaded the mainland United States."
To decide whether or not the United States should enter the War of 1812, click here to "Cast Your Vote!"