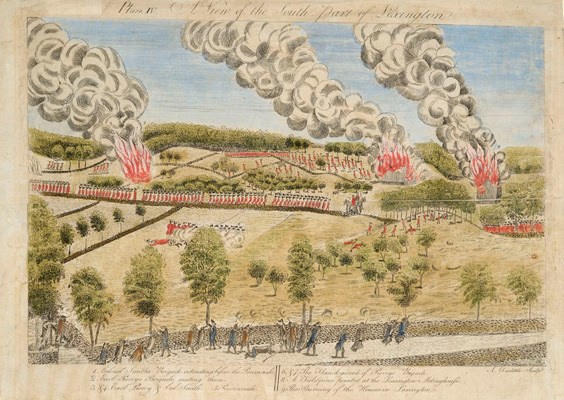 by William Parrow, U.S. Park Guide

1763 dawned on British North America like no other. Coming to terms with the end of the French and Indian War and a depressed economy, American colonists protested mightily newly enforced trade and tax policies by the British Parliament. Beginning with the 1764 Sugar Act, and then the 1765 Stamp Act, opposition grew steadily throughout the thirteen colonies.

Colonists used the major medium of the day – the printing press – to express their discontent. Both text and pictures could be shared among many people and across great distances. While some pictures were included in newspapers and other publications such as almanacs and broadsides, others were printed as sheets that could be sold individually.

Having had the first printing press (1638) and the first newspaper (1704) in British North America, the Boston area had the first pictures of protest starting in 1765.

By today's standards these images seem crude, but engraving was still a developing technology in the American colonies, and the urgency of the conflict between Great Britain and her colonies could not wait for refinement. The propaganda could not be denied; pictures enlivened a political conversation that text alone could not.

Silversmiths were often the first engravers in the colonies, so it is no surprise that Boston's Paul Revere created the first protest pictures in the colonies. While some engravings were done on wood, most were copper engravings.

Revere's first political engraving was inspired from one printed in London. The effigy of Andrew Oliver, Boston's designated stamp-master, hanging from Boston's Liberty Tree is the most provocative scene from Revere's "A View of the Year 1765"; Revere sold copies of this engraving himself.

The Pennsylvania Journal and Weekly Advertiser offered its own scorn of the official Parliamentary Stamp Act seal with this picture, which was copied by many other newspapers who felt the tax on numerous legal and maritime documents would kill their businesses.