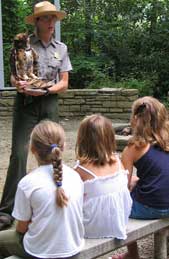 Becoming a Blue Ridge Parkway Junior Ranger is exciting and rewarding! Pick up your Junior Ranger folder and instructions at any park visitor center.
Rangers are typically available from Memorial Day through October. Then travel the Parkway to get activity sheets that are connected to the stories and the places along your journey.
To become a Junior Ranger on the Parkway, you must do all of the activities on the Junior Ranger Folder and at least three of the activities on one of the sheets. With one sheet and the folder completed, you receive a Junior Ranger badge and certificate. With four sheets completed, you receive a patch and if you finish all 10, you earn our special junior ranger pin! Enjoy your trip and thanks for your interest in becoming a Blue Ridge Parkway Junior Ranger!
Worksheets for individual places along the Parkway.
Appalachian Trail Junior Ranger Program.
National Park Service Web Rangers.
Teen Activity Guide for the Appalachian Trail along the Blue Ridge Parkway.
Check out kidsinparks.com for more activities related to the Parkway.
If you finished your Junior Ranger activities after leaving the Parkway,
they may be mailed to 199 Hemphill Knob Road, Asheville, NC, 28803, and we will send you what you earned.