The Fiddle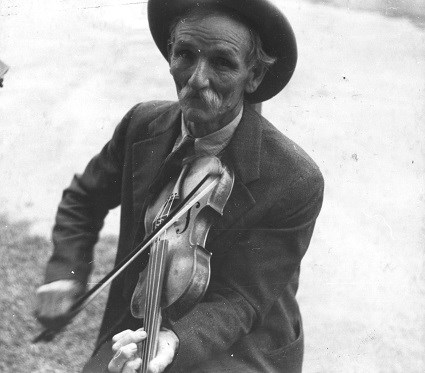 The "fiddle" or violin was a European import to America, carried by the Irish, English, and German settlers in their waves of immigration to the new world. Lightweight and portable, versatile in its styles and moods, and perfected by the master violin makers of Italy, this was the preferred instrument for many new Americans. In settlements along the great wagon road through the Shenandoah Valley, fiddles were common.
Before 1750, fiddling contests in Virginia offered fine, Italian violins as first prize. Slaves or white indentured servants who "fiddled" were often the center of attention at parties or calls in Colonial America. The frolicking and dancing that accompanied a fast paced fiddle tune led some of the more strict and demure observers to call it "the devil's box."
In 1760, a red-haired young man carrying a violin case stopped at a home in Hanover County, Virginia for the evening on his way to enroll in the College of William and Mary. The home owner asked for an after dinner Irish tune and the youth obliged so expertly that the host began an impromptu dance. The young man was Thomas Jefferson and the host, Patrick Henry. Over the years, among his vast pursuits and interests, Jefferson was, above all, an outstanding violinist. The collection of Jefferson family music includes the widest range of tunes, from classical to popular, to many songs played in fiddling circles today.
The fiddle and its music still reverberate through the Blue Ridge, sometimes continuing to reflect the style of some long ago master of the instrument. We know the music will not be lost when we find young and old alike sitting next to one another at many Parkway locations, swapping styles and straining to pick up every note and variation of the technique.
Last updated: June 19, 2017