History & Culture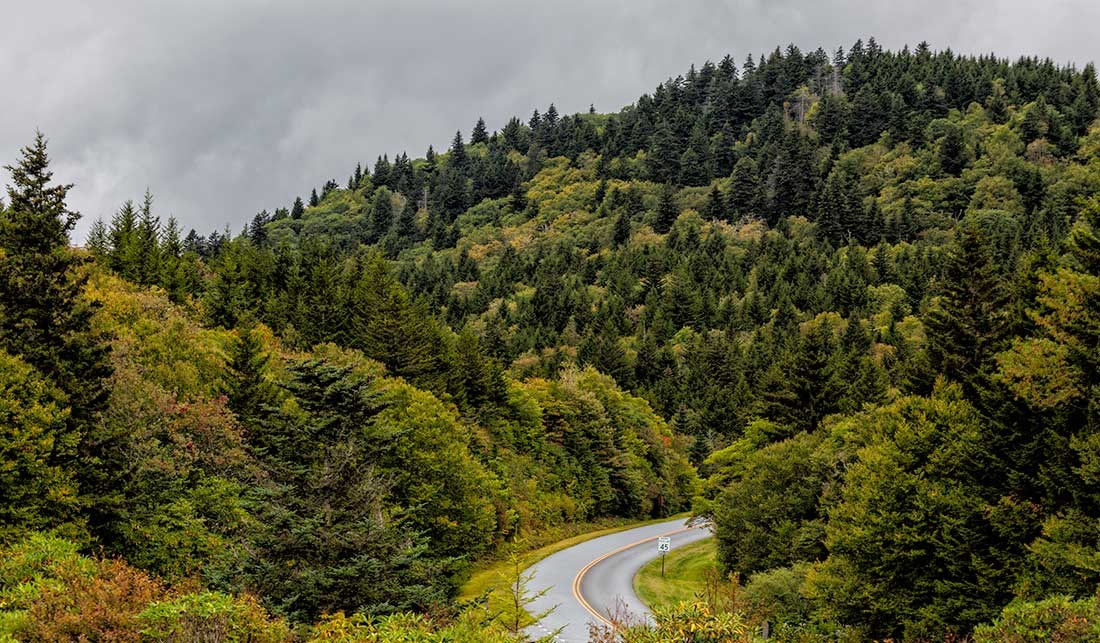 The Blue Ridge Parkway is Many Things
It is the longest road planned as a single unit in the United States.
It is an elongated park, protecting significant mountain landscapes far beyond the shoulders of the road itself.
It is a series of parks providing the visitor access to high mountain passes, a continuous series of panoramic views, the boundaries of its limited right-of-way rarely apparent and miles of the adjacent countryside seemingly a part of the protected scene.
It is a "museum of the managed American countryside," preserving the roughhewn log cabin of the mountain pioneer, the summer home of a textile magnate, and traces of early industries such as logging, railways, and an old canal.
It is the product of a series of major public works projects which provided a boost to the travel and tourism industry and helped the Appalachian region climb out the depths of the Great Depression.

Stretching almost 500 miles along the crest of the Blue Ridge mountains through North Carolina and Virginia, it encompasses some of the oldest settlements of both pre-historic and early European settlement.
The Blue Ridge Parkway is all these things and more!
Learn more about the Parkway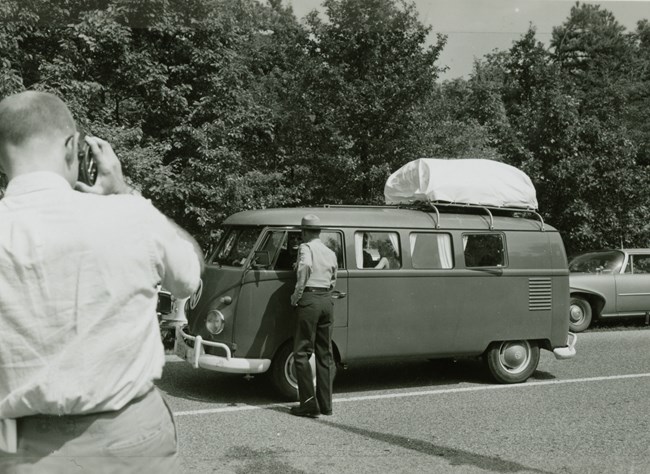 Historic Parkway Photos and Maps
Blue Ridge Parkway Digital Archives are accessible online through the NPGallery Digital Asset Management System. The digital archives include the Blue Ridge Parkway Historic Photograph Collection, which contains digital copies of photos documenting construction of the parkway, ranger-led programs, special events, staff portraits, general tourism, scenic views, and recreational activities from the 1930s to 1970s. Parkway Land Use Maps (PLUMs) and drawings are also available. All digital assets can be downloaded free of charge.

Driving through Time: The Digital Blue Ridge Parkway is an extensive digital history collection that features thousands of historic photographs, maps, postcards, government documents, oral history interviews, and newspaper clippings documenting the parkway's more than 75-year history. The site, hosted at the University of North Carolina libraries, will eventually include nearly all of the historic parkway photograph collection now held by the Blue Ridge Parkway headquarters, as well as many other historical documents from the park's archive that were digitized especially for the project. Everything is fully searchable.
Each digitized item is also assigned geographic coordinates so that it can be viewed on a map, enabling users to visualize and analyze the impact of the Blue Ridge Parkway on the people and landscape of western North Carolina and southwest Virginia. Many historic maps (including North Carolina Parkway Land Acquisition Maps and the Park Service's Parkway Land Use Maps for North Carolina) are "georeferenced" (aligned with present landscapes so past and present can be compared). Interpretive essays, called "overlooks," introduce viewers to new research on parkway history, and K-12 lesson plans invite teachers to use the site's primary source collections in teaching.

Last updated: September 9, 2020