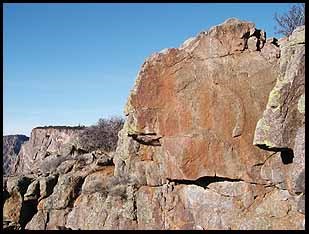 The term "Vernal Mesa Quartz Monzonite" was coined by J. F. Hunter in 1925 during his research in the Black Canyon of the Gunnison. The steepness of the walls of the Black Canyon owe their existence to this rock. The hardness of the rock and the down cutting force of the Gunnison River have worked in conjunction for approximately 2 million years to carve the canyon. The quartz monzonite is extremely resistant to erosion, so as the river cuts down and makes the canyon deeper, the hard rock keeps the walls from eroding and widening.
The quartz monzonite does not run through the entire canyon. It covers an area of approximately three square miles and stretches from Rock Point to Warner Point on the south rim. This is also the most dramatic section of the park, containing plunging cliffs, imposing monoliths and the "Narrows" at the river.
Vernal Mesa Quartz Monzonite derives its name from Vernal Mesa which encompasses the majority of the South Rim of the Black Canyon. Quartz monzonite contains small amounts of sodium and potassium and more calcium than granite. It's similar in appearance to granite, but is different chemically and mineralogically. It's dark gray and course grained. Its companion rock, called Curecanti Quartz Monzonite, named for the Curecanti Needle in the Morrow Point Reservoir, differs from the Vernal Mesa Monzonite by being lighter and finer grained.
Both these rocks originated about 1.4 billion years ago. This activity post dated the creation of the surrounding metamorphic rock, dated 1.9 million years ago, by approximately half a million years.
Moving as a large body, called a pluton, miles deep below the surface, magma intruded into the existing schists and gneisses, devouring the rock in its path, folding them in and half-way digesting them. At times this blob of molten rock would push the metamorphic rock out of the way. Slowly the magma cooled and individual crystals solidified. This type of event occurred three times over the ages while the metamorphic rock was still deep in the earth. (In addition to rock at the Curecanti Needle and Vernal Mesa, another pluton intruded in the vicinity of Pitts Meadow in the Gunnison Gorge National Conservation Area).