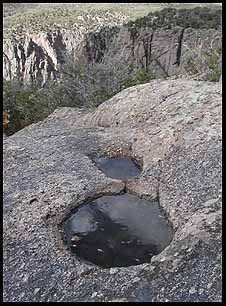 Although most animals use these potholes as a wayside stop in their daily journeys, some species of aquatic life make these ephemeral pools their permanent home. Since potholes have several wet-dry phases, the organisms that live in them have made a number of special adaptations that help them survive in this ever-changing environment.
Not all of the rock at Black Canyon readily forms pot holes, but the sandstone and igneous rocks weather away into pits or pools that gather water and support life. Because the rim of the canyon lies between 7,700 feet (2,347 meters) and 8,300 feet (2,530 meters) above sea level, the temperature ranges can be extreme from season to season. The organisms that live in these potholes not only have to contend with often insufficient amounts of water, but also a very short window of time for growth and development. The high elevations and cold temperatures found at the Black Canyon provide a more hostile environment for pothole creatures when compared to much of the Colorado Plateau.
The biggest challenge facing any of the organisms living in the pools is desiccation (drying out) after the water has evaporated. These animals have three main ways of dealing with drought:
Drought Resisters
Some animals have a tough, waterproof exoskeleton that prevents dehydration. Burrowing into the fine mud that lines the bottom of the pool further reduces their exposure to the sun. After the pool has dried completely, the surface of the mud that surrounds them may be baked solid, this however helps to seal in the moisture the animal will need to survive until the pool fills again.