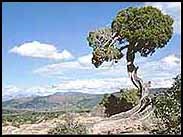 PINYON / JUNIPER FOREST
The Colorado Plateau is a geologic region characterized by high deserts, deep canyons and "pygmy forests". These features can be found along the Warner Point Nature Trail, the highest elevation on the park's south rim. Pinyon pine and juniper trees dominate this forest type known as the "pygmy forest" due to its small stature. Pinus edulis, Pinyon pine, is most common here, but 11 species of North American nut pines are found throughout the desert southwest.
Juniper always seems to mingle with the Pinyon pine thriving in the unique climate and soils of the area. While six species exist, here you are most likely to find Juniperus osteosperma. Junipers are commonly called cedars, but botanists tell us that true cedars are not native to North America.
The pinyon and juniper woodlands have provided food, fuel, building materials and medicines to American Indians for thousands of years. Still today, the pygmy forest provides the delicious pine nut and firewood for people of all walks of life on the Colorado Plateau.